Emergency and security
Emergency contact numbers
Ballarat and Wimmera - extension 6911 or call 5327 6911
Berwick - call 9905 3333 or 000
Gippsland - extension 333 or call 5122 6999
Emergency guides
Non-urgent security issues
Ballarat campuses - extension 6333 or call 5327 6333
Berwick Campus - call 9902 7777
Gippsland Campus - extension 26662 or call 5122 6662
Wimmera Campus - call 5382 0560 or 0417 820 560
Email: security@federation.edu.au
Security
Security Officers at Federation University Australia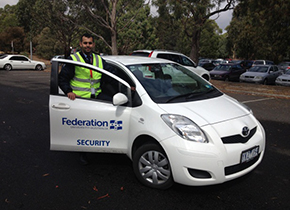 ensure a safe and secure environment for all our campuses.
Security Officers are employed day and night to respond to incidents, provide security escorts, patrol car parks and Halls of Residence, secure unlocked buildings, and provide assistance to students, staff and visitors.
Our Security Officers are licensed, and hold security and first aid qualifications.
The Security Co-ordinator can provide general advice, office and workplace security assessments, and training in diffusing difficult or aggressive situations, and works closely with other University staff to proactively manage issues and behaviours of concern.
Personal safety - request an on-campus security escort