Your voice matters

'Your voice matters'
The 'Your voice matters' staff engagement survey is now closed.
A huge thank you to every one of our 1,114 continuing, fixed-term, casual and sessional staff members who took the time to participate.
Your thoughtful feedback and suggestions are vital to the continued growth and success of Federation University.
Results
Over the coming fortnight the high-level results will be shared with senior leaders. Aggregated team results will be cascaded down through to line managers, using the user-friendly Culture Amp portal, enabling action plans to be developed focusing on our areas in need of improvement.
Survey prize draw
I am pleased to announce the five lucky staff who each will win one of our $100 gift vouchers. A big congratulations goes out to:
Angela Olwyn, SMB Campus
David Waldron, Mt Helen Campus
Lisa Wood, Gippsland Campus
Sarah Henry, Mt Helen Campus
Sonya Francis, Brisbane Campus
---
Participation by portfolio (at 8 November)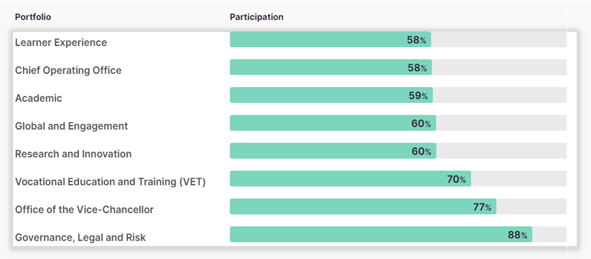 Participation by campus (at 8 November)

---
Watch this video to see how your data will be protected