Event advice
Event advice and logistics
Corporate Communications provides advice on logistics and protocols for Federation University events to ensure a consistent event experience.
We support the Vice-Chancellor's Senior Team attendance at events. We also help to deliver hallmark events (such as the Albert Coates Oration), media events on behalf of Federation and Vice-Chancellor's Staff Forums.
Event Officers work with Federation's Schools, Directorates and TAFE to help with the preparation of consistent and informative event briefings, which take into account all aspects of logistics and event management.
Visit Contact Us to get in touch with an Events Officer.
Borrow a banner
We may also be able to lend you a pull-up banner for your event.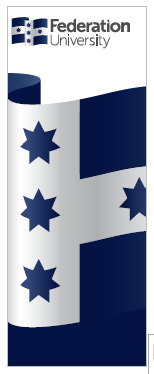 Banner: Generic
Number available: 8
Please complete the loan agreement (pdf) and read over the Pull-up Banner Care Instructions (pdf) if you wish to borrow a generic banner.