Emergency and security
Emergency contact numbers
Ballarat and Wimmera - extension 6911 or call 5327 6911
Berwick - call 9905 3333 or 000
Gippsland - extension 333 or call 5122 6999
Emergency guides
Non-urgent security issues
Ballarat campuses - extension 6333 or call 5327 6333
Berwick Campus - call 9902 7777
Gippsland Campus - extension 26662 or call 5122 6662
Wimmera Campus - call 5382 0560 or 0417 820 560
Email: security@federation.edu.au
Security
Security Officers at Federation University Australia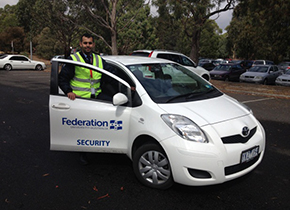 ensure a safe and secure environment for all our campuses.
Security Officers are employed day and night to respond to incidents, provide security escorts, patrol car parks and Halls of Residence, secure unlocked buildings, and provide assistance to students, staff and visitors.
Our Security Officers are licensed, and hold security and first aid qualifications.
Personal safety - request an on-campus security escort
Report an incident or suspicious behaviour
Safety and security relies on everyone doing their part and reporting serious, unusual or suspicious incidents. If you see something suspicious, please let us know, even if it doesn't seem significant.
What you saw or heard could be part of something more serious. Reports to Campus Security are treated with the utmost confidentiality.
If you are concerned about your safety, the safety of someone else, if you're the victim of a crime, or if you need general security advice, call Campus Security at any time.