Support services examples of effective practice
Online and flexi students receive personalised check-in
In Week 7, Semester Two, the Student Futures team sent a personalised email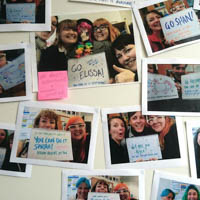 out to all online and flexi students, checking in with them. The email was aimed to reduce isolation of online students by letting them know that feelings of stress at this time of semester were normal. Being online reduces the interactions students have with one another, which prevents them from understanding whether or not their levels of stress are normal or not. The email also contains information about support services that can reduce a student's stress or anxiety regarding both uni work and personal pressures.
Students are were invited to reply to the email if they need anything, even if was just a little bit of motivation. The Student Futures team then sent every student that replied, a Support Selfie. These personalised messages included reassurance that the student was doing well, that the University was thinking of them and that they can keep going. Each message was tailored to suit the requesting student's needs. Every recipient of a Support Selfie is logged, and at the end of Semester the Student Futures team checks in with the student again to see how they went and to congratulate them on all that they have achieved.
Returning residential students offered more flexibility
FedUni Living is currently promoting their Live Your Way initiative for returning residential students. Evidence shows that attrition rates for students who live on campus are lower than those who do not (see research). While FedUni has, for some time, offered a first year accommodation guarantee for commencing full-time students, they are now able to offer returning students greater choices in where they live and who they live with.
The ability to share accommodation with friends you have made in your first year of uni study is sure to give returning students a deeper sense of connection. Friendships bonded at university are often lifelong, founded in mutual support and experiences. The introduction of this initiative is aimed at supporting returning students, giving them more flexibility, and contributing to a positive university experience.
For more information on this initiative, and living on res, please contact Fedliving.
Online student support
The Student Retention and Success strategic plan aligns to Priority 1 of the BOLD Learning and Teaching Plan 2015-2017. This priority focuses on facilitating the highest quality of learning possible for each student.
As FedUni moves forward and creates an enhanced blended on-line and digital teaching platform, Student Futures has identified an opportunity to provide support services previously only available to on-campus students. These services have been redesigned and enhanced specifically to prepare and support our online student cohort, providing an example of effective practice in developing excellent customer service.