Society and Heritage
This research stream explores how changes in society and the natural environment interact and seeks to integrate environmental values within social practices and policy.
It explores the ethnohistoric and documentary evidence for change in socio-ecological systems to understand the legacies that operate and influence natural systems today.
By drawing on socio-cultural evidence, this stream will validate complimentary approaches and strengthen knowledge banks for environmental restoration practice. It will seek to integrate environmental values and research outcomes into economic, political and health systems.
Research stream leader
Professor Keir Reeves
School of Arts
k.reeves@federation.edu.au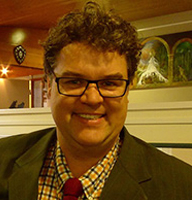 Expertise: History, heritage, regional studies, cultural tourism
Professor Keir Reeves' research expertise exists at the intersection of history, heritage, regional studies and cultural tourism, including travel in Asia, Australia and the Pacific.
Dr Reeves has been a Chief Investigator on three ARC Discovery and four ARC Linkage projects. Keir was ARC funded Post-Doctoral Industry Fellow and contributed to Anzac Journeys: Returning to the Battlefields of World War Two (Cambridge, 2013) – shortlisted for the 2014 AHA Ernest Scott prize.
Keir is a Life Fellow at Clare Hall Cambridge and was a Visiting Researcher at both the University of Cambridge and Ghent University, and a Senior Rydon Fellow and Bicentennial Fellow at King's College London. In 2019, Keir was a Visiting Fellow at the Centre for the Humanities and Public History Lab at Utrecht University, and in 2020 he was a Visiting Researcher at Wakayama University, Japan.
Keir completed his MA and PhD at the University of Melbourne.
Contact
For queries about FRRC's research, or to discuss collaborating or researching with us, get in touch with the Centre Directors via the Contact page.