Beggs-Sunter, Anne Dr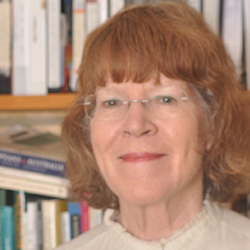 Position: Lecturer
Study area: History
Location: Mt Helen Campus
Phone: 5327 9728
Email: a.beggs-sunter@federation.edu.au
Qualifications
PhD (Melbourne, 2002)
MA (Deakin) 1990
Dip. Ed. (Melbourne)1976
Dip. Librarianship (UNSW) 1971
BA (Melbourne) 1970
Teaching
Australian History (BAHIS 2001/3001)
Gender, Sexuality and History (BAHIS 2005/3005)
Biography
Dr. Anne Beggs-Sunter is an historian who lectures in the School of Arts at Federation University Ballarat in Wathawurrung country. Her major interests are in Australian social, cultural and political history. Her special interests relate to the colonial era, to the history of Ballarat and its heritage conservation, and the significance and commemoration of the Eureka Stockade.
Areas of expertise
Australian history
Colonial and British Imperial history
Australian-Irish history
Women's history in Australia
Heritage – both natural and architectural
Australian Art history
Research interests
The social, political and cultural history of Ballarat, and the development of mechanisms to protect its heritage
The history of art education
History of gold mining in Victoria
The Eureka Stockade, and its interpretation in Australian cultural and political life
Supervision
Currently involved in the supervision of 11 PhD students, with topics related to Ballarat, and wider Victorian Colonial history.
Publications
Books
Rich Vein of Learning: The Origins of the University of Ballarat. University of Ballarat, 1994

Sunter, Anne Beggs and Livingston, Kevin (eds) The Legacy of Eureka; Past, Present and Future. Ballarat, Australian Studies Centre, University of Ballarat, 1998
Camp Street; From Eureka to Federation, Ballarat Fine Art Gallery, 2001
Eureka Revisited; The Contest of memory, Ballarat Fine Art Gallery, 2004
Not for Self But for All; a history of the Art Gallery of Ballarat Association, Ballarat, Art Gallery of Ballarat, 2018
Book chapters
'Engendering public debate on Federation; the role of the Australian Natives Association' in Kevin Livingston, Richard Jordan and Gay Sweely (eds), Becoming Australians; The Movement Towards Federation in Ballarat and the Nation, Kent Town, South Australia, Wakefield Press, 2001, pp 42-49.
'Contesting the flag: the mixed messages of the Eureka flag', Alan Mayne (ed.), Eureka; Reappraising an Australian Legend, Perth, Network Books, 2006, pp. 45-60.
'Little Scotland; Presbyterian Enlightenment and Improvement in Buninyong', in Fred Cahir, Anne Beggs-Sunter and Alison Inglis (eds.), Scots Under the Southern Cross, Ballarat, BHS Publishing, 2015, pp. 65-78.
'Ballarat's Crusading Evening Echo; Fighting Militarism in World War 1', Phillip Deery and Julie Kimber (eds.), Fighting Against War; Peace Activism in the Twentieth Century, Melbourne, Leftbank Press, 2015, pp. 104-120.
'Contested Museum Memories of Eureka', in David Headon and John Uhr (eds.), Eureka; Australia's Greatest Story, Annandale NSW, Federation Press, 2015, pp. 134-146.
'William Bailey and his Haunted Mansion', in David Waldron (ed) Goldfields and the Gothic, North Melbourne, Australian Scholarly Publishing, 2016, pp. 31-42.
'The Strange Case of Captain Father Thomas O'Donnell: Conscription, Court Martial and Irish Nationalism in Australia at the end of the Great War' in The Great War: Aftermath and Commemoration , edited by Carolyn Holbrook and Keir Reeves, Sydney, New South Publishing, 2019..
Entries on 'Peter Lalor' and 'Eureka Stockade' in Ness, Immanuel (ed). The International Encyclopedia of Revolution and Protest, London, Blackwell Publishing, 2009. Blackwell Reference Online. <http://www.blackwellreference.com/public/book?id=g9781405184649_9781405184649>
Refereed journal articles
'Something borrowed, something blue', Overland, 160, Spring 2000, pp. 69-71
'Remembering Eureka'; Journal of Australian Studies, No. 70, 2001, pp. 49-56
'An Eminent Victorian; James Oddie and his Contribution to Ballarat', Victorian Historical Journal, V. 72, Nos.1 & 2, September 2001, pp. 105-116.
'Celebrating and Commemorating Nation and Empire in Ballarat', Australasian Victorian Studies Journal, V.7, 2001, pp. 99-109.
'The Eureka Interpretative Centre; trying to satisfy competing versions of history' in Australian Historical Association Bulletin, No. 82, May 1996, p. 58-64
'Eureka: the first Australian Republic?' in Crux Australis, V. 12/4, 1999, p. 156-167
'Contested Memories of Eureka: Interpretations of the Eureka Stockade', Labour History, No. 85, November 2003, pp. 29-46.
'The Apotheosis of Peter Lalor: Myth, Meaning and Memory in History', Australian Journal of Irish Studies, V. 4, October 2004, pp. 94-104.
'Eureka: Gathering the Oppressed of All Nations', Journal of Australian Colonial History,Vol. 10, No. 1, 2008, pp. 15-34
Refereed conference proceedings
'Eureka's Impact on Victorian Politics; the fight for Democratic Responsible Government in Victoria, 1854-71', Labour Traditions; Papers from the Tenth National Labour History Conference held at the University of Melbourne, 4-6 July 2007, Melbourne, Australian Society for the Study of Labour History, 2007, pp. 15-21.
'The Institute's Role in Evoking a Taste for Art', in Jill Blee and Phil Roberts, eds., Under Minerva's Gaze; 150 years at the Ballaarat Mechanics' Institute, Ballarat, 2010, pp. 28-41.
'Eureka and the transformation of the mining industry in mid-nineteenth century Australia', Transforming Labour: Work, Workers, Struggle and Change, proceedings of the eighth national Labour History conference, Griffith University, Brisbane, 2003, p. 29-33
Associations
Australian Historical Association
Dry Stone Walls Association of Australia
Royal Victorian Historical Society
Central Highlands Historical Association