Childcare and kindergarten programs available
Caring and supportive environment for children to play, learn and grow
Centres available at Mt Helen, Ballarat CBD and Churchill
Federation Children's Centres, located at Mt Helen, Ballarat CBD (SMB) and Gippsland provide quality childcare and kindergarten programs for children aged 6 weeks to 5 years. Our centres offer a caring and supportive environment with flexible and stimulating learning experiences. Enrolments are open to Federation staff, students and the local community.
Federation Children's Centres are pleased to be able to offer a Victorian Government funded 3-year-old kindergarten program in 2022. We are excited to offer this opportunity to our children, as it has been shown that being involved in a quality kindergarten program at an earlier age can lead to positive effects on the child's development, and two years of early learning can be beneficial to early childhood education and learning.
Registrations for 3 and 4 year old kindergarten programs now available
Focus on early childhood education and growth
At Federation Children's Centres we understand the importance of early childhood education and growth. Our children are celebrated, respected and valued for their individualities, ideas and opinions.
Our passionate and professional team of educators are committed to providing each and every child with a range of valuable experiences and opportunity on their learning journey.
Our educators are focused on play based learning, in addition to planned experiences, regular outings and spontaneous adventures, aimed at bringing out the best in every child. Activities are planned according to the children's developmental stage and include experiences in language and literature, music and movement, art and craft, dramatic play, science and maths, sensory motor activities and activities to promote physical development and co-ordination.
Family involvement for lifelong learning
Federation Children's Centres educators partner with our families throughout the various stages of children's development to encourage and foster a lifelong love of learning. Through family involvement, children develop a sense of continuity and community between home and the centre.
Our centres regularly host family events including the popular annual art exhibitions, and Winter Solstice Lantern Walks, in addition to family picnics, special friend breakfasts and more. Involvement is also welcomed throughout the year with regular special interest activities and outings.
Families are kept up to date with the EarlyWorks application, sharing your child's educational journey, extending learning opportunities and communicating important updates and reminders from the centre. The EarlyWorks app is available to download from the App Store (iPhone) and Play Store (Android).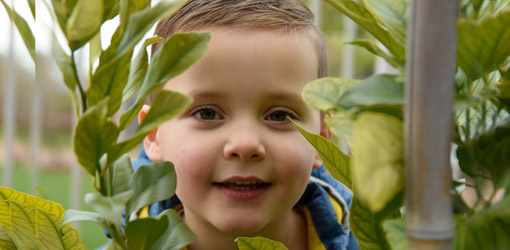 Our centres
Our centres are designed with your child's play and learning in mind.
Large outdoor play areas encourage children to explore our natural settings and environment, while also engaging in imaginative play, climbing, swinging, building and more.
Indoor spaces are created for meaningful play, guiding children to grow and thrive with a range of experiences.
Find out more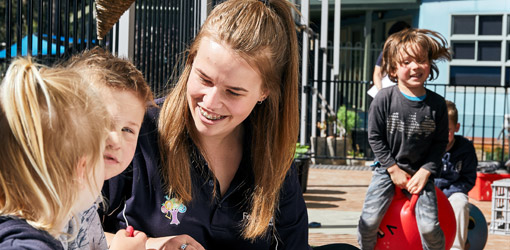 ---