Mt Helen Campus
The Federation Children's Centre at Mt Helen is conveniently located on campus. The centre can accommodate 80 children, across 5 children's rooms, including a funded 4 year old kindergarten program, and a new 3 year old kindergarten program commencing 2022.
Children are placed into the appropriate room according to their age and stage of development. High-quality education and care in a flexible, stimulating and inviting environment. Family involvement is encouraged at Federation Children's Centres with regular communications and events, including the annual art show, winter solstice walk and family picnics.
The Mt Helen Centre facilities provide children with the opportunity to learn through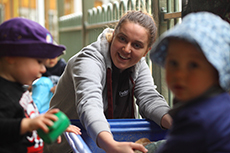 play and exploration of the natural bushland surroundings.
Take a look inside our centres with our online image gallery.
How do I apply?
Apply to enrol your child today. Childcare and kindergarten places currently available.
Follow the links below to submit your application.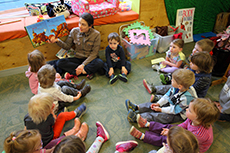 Contact us to discuss your enrolment options
Where are we located?