Chihota, Clement Dr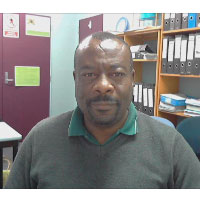 Position: Lecturer
Study area: Community and Human Services
Location: Berwick Campus, Room 901-130D
Phone: 5122 6069
Email: c.chihota@federation.edu.au
Qualifications
Doctor of Philosophy – University of Cape Town – 2014
Master of Applied Social Work – Massey University – 2012
Masters in Applied Linguistics – University of Zimbabwe – 1992
Graduate Certificate in Education – University of Zimbabwe – 1988
Teaching
Programs
Master of Social Work (Qualifying)
Bachelor of Community and Human Services
Courses
Social Political and Legal Frameworks of Human Rights (MSWPG7213)
Social Work Research (MSWPG7211)
Social Policy and Social Change (WELSI2103)
Governing Inequality (ATSGC1361)
Biography
Clement is a lecturer in Social Work/Community and Human Services. Before joining Federation University Australia in January, 2018, he served for four years as Social Work Educator at Bethlehem Tertiary Institute in Tauranga, New Zealand.
Originally from Zimbabwe, Clement has travelled a geographically and professionally diverse journey as Educator and Lecturer in Applied Linguistics in Zimbabwe; Academic Writing Consultant and Lecturer in Postgraduate Development at the University of Cape Town in South Africa and Child Protection Social Worker within the Child Youth and Family Services (now Oranga Tamariki) in Auckland, New Zealand.
Clement is passionate about effective and student-centred teaching; the application of multiple and interdisciplinary lenses in social and community work education and the exploitation of information and communication technologies to deliver curricular.
Areas of expertise
Clement's areas of expertise include:
Critical Language Awareness/Critical Discourse Analysis
The ideological locations of social theory
Social change and social policy analysis
Gender and minority issues
Research interests
The scope for Critical Language Awareness (CLA) in social and community work practice
Language and power (i.e. how discourses shape and are in turn shaped by social structures, institutions and relations.
Bio-Psycho-Social-Spiritual (BPSS) frameworks for holistic engagements with clients
Barriers and affordances for academic literacies
Publications
Books
Chihota, C. M. (2016). Proposing a Marxist Stylistics: Beyond Althusser, Past Critical Discourse Analysis. Saarbrucken: Ominisciptum.
Chihota, C. M. & Muponde, R. (2000). No More Plastic Balls. Harare: College Press.
Chihota, C. M. & Tichapondwa, S. M. (1999). Before the Next Song and other Poems. Gweru: Mambo Press.
Chihota, C. M. (1998). The Interfaces of Language, Literature and Communication. Harare: Zimbabwe Open University Press.
Book chapters
Arkwright, J. & Chihota, C. (In press). Using Appreciative Inquiry and Multimodal Texts as Transformative Tools within a Christ-following Missional Learning Community. In J. M. Luetz, T. Dowden & B. Norsworthy (Eds.). Reimagining Christian Education – Cultivating Transformative Approaches. Springer Nature Singapore Pte Ltd: Singapore.
Chihota, C. M. & Thesen, L. (2014). Rehearsing 'the Postgraduate Condition' in Writers' Circles.' In L. Thesen & L. Cooper (Eds.), Risk in Academic Writing: Postgraduate Students, their Teachers and the Making of Knowledge. Bristol: Multilingual Matters.
Refereed journal articles
Chihota, C. M. (2017). Critical Language Awareness: A Beckoning Frontier in Social Work Education? ANZASW Journal, 29 (2). Retrieved: https://anzswjournal.nz/anzsw/article/view/287.
Chihota, C. M. (2009). The Problem with Being Broke. The Warwick Review, 3(4).
Paxton, M., Arend, M., van Pletzen, E., Archer, A. & Chihota, C. (2008). Writers' Stance in Disciplinary Discourses: a Developmental View. Southern African Linguistics and Applied Language Studies, 26(1).
Chihota, C. (2007). The Games People Play: Taking on Postgraduate Identities in the Context of Writer Circles. Journal of Applied Linguistics,4(1).
Chihota, C. M. (2002). Shipwreck. Tripwire Journal of Poetics, 6.
Refereed conference proceedings
Gibson, A. & Chihota, C. (Eds.). Proceedings: Peer reviewed papers. International Conference for Christian Educators, 2018. Bethlehem Tertiary Institute/IAPCHE.