2019 Alumni Awards event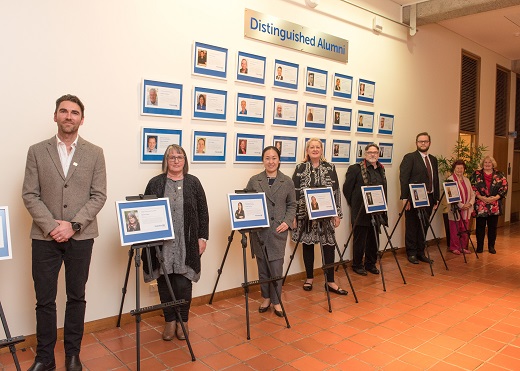 The University will formally recognise alumni for their achievements within their chosen field of study and beyond, at the Federation University Australia 2019 Alumni Awards to be held on Tuesday 2 July at the Caro Convention Centre, Mt Helen campus.
In 2019, 11 awards will be presented in the following categories:
Alumni of the Year
International Alumni of the Year
Distinguished Alumni
(Posthumous) Distinguished Alumni
Read more about the Alumni Awards including lists of past winners.
From left: Tim Diamond, 2018 Alumnus of the Year; Rachel Flynn, 2018 Alumna of the Year; Emily Ying Situ; 2018 International Alumna of the Year; Dr Margaret Heffernan, Distinguished Alumna; Prof Ian Clark, representative for Posthumous Distinguished Alumnus; Betty Milne-Ward and Lorayne Branch, representatives for Posthumous Distinguished Alumnus.