2014 Alumni Award recipients
The University presented its inaugural Alumni Awards to two of our graduates at the Mt Helen Campus on Thursday 3 April, 2014 to formally recognise their achievements within their chosen field of study and beyond.
Young Alumnus of the Year
Robert Layton
Nomination category - Outstanding academic or research achievement
Summary
After completing his Bachelor of Applied Computing (Mathematics) in 2008, Robert undertook an honours year at the University of Ballarat. His honours thesis examined artificial intelligence applied to playing poker at a high level and received first class honours, in addition to a conference publication from this work. After this, Robert obtained a scholarship to study his PhD at the University of Ballarat, in the newly formed Internet Commerce Security Laboratory (ICSL). Robert's PhD tenure was a success, with a timely completion, more than 10 publications and 20 citations of this work in just three years. Robert's research investigated applying attribution technologies to cybercrimes in order to understand the size and scope of the groups behind attacks, technology that is now helping fight cybercrime within industry and government sectors. During this time, Robert was active around the University, including being student member of the University of Ballarat Council.
Robert graduated his PhD in 2012, but continued on with the ICSL at a Research Associate and after just 18 months he was promoted to Research Fellow. Robert's track record is impressive for an early career researcher, with over 30 publications, 130 citations and grants of a number of different sizes, including small, medium and very large grant outcomes. In addition, Robert is undertaking supervision in either a principle or associate role for seven higher degree students, six of which are PhD students.
Robert's research continues the theme of his PhD research on applying attribution technologies to profiling and understanding cybercrimes. His research has been feature in international press and peer-reviewed journals. Significant contributions made by Robert including identifying authorship of phishing attacks, social media posts and learning in unsupervised applications, each of which was pioneering research at the time.
Robert's grand and funding outcomes sum to over $200,000 as well as membership of a multi-institution grant of over $1.1M. This includes funding from the Telematics Trust, Attorney General's department, multiple internal grants and the Anti-Phishing Working Group, one of the largest research based cybercrime fighting organisations. Finally, Robert provided a key role in helping to renew funding from the partners of the ICSL, with over $650,000 of funding over 5 years.
International Alumnus of the Year
Minister Alfredo Pires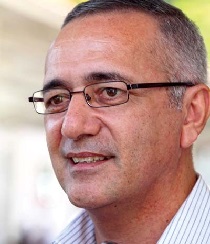 Nomination category - Outstanding professional achievement and Outstanding service to the community
Summary
Alfredo Pires is the Minister for Petroleum and Mineral Resources in Timor-Leste, and is nominated for this award as he is an outstanding graduate of the former University of Ballarat. Specifically, he excels in his chosen field of geology and through his professional endeavours, he continues to contribute to the development of his home nation of Timor-Leste, using his training to help guide policies, initiate laws and seek public input. His portfolio is one of extreme importance to the economic future of Timor-Leste, and he is acknowledged as steering a path that is both mindful of current economic imperatives as well as future socio-economic opportunities.
Professional
Whilst in exile in Australia, Alfredo Pires became the first Timorese to train as a geologist. Since returning to Timor, Alfredo Pires has:-
spearheaded the development and reform of the petroleum sector with the creation of the National Petroleum Authority (NPA), the National Oil Company & an Institute of Petroleum & Geology.
forged a strong "After Oil" policy, encouraging his Government and people to sell oil as only an engine of growth, and to also invest in the non-oil sector.
Fostered the profession of Geology in TL by providing opportunities for young people to study geology and provide their own insights to resource management (currently more than 160 students are on scholarship, studying geology and related fields).
Community Service
An exceptional aspect of Alfredo Pires' career is that he made "engagement" central to his modus operandi, specifically:
ensuring local involvement: Pires has been among those leading the charge for civil society engagement and transparency, such as through engineering Timor-Leste's compliance with the Extractive Industries Transparency Initiative (EITI) which promotes collaboration with local civil society organisations.

Effective international advocacy: while Pires is clear in his philosophy of "Sovereignty and Ownership of natural resources", Pires has forged an extensive network of relations, which has seen TL recognised internationally for its advances in transparency (as evidenced by its hosting of regional meetings for oil and transparency). Added to this, Pires has demonstrated his capacity as a consummate diplomat in his interactions with the Australian Government where he is able to progress his nation's interests while preserving inter-country relations.