WALLIS, Terence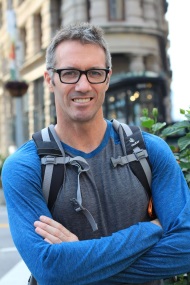 Degree:
Diploma of Education
Graduation year:
1981
Current Position:
President and Founder
Employer:
Indelible Adventures Inc.
What are some of your career highlights?
Best selling author - "Indelible Adventures" 2014
Popular blogger – "Indelible Adventures" (global readership of 120,000+)
Partner / Managing Director – (Accenture)
SVP – Global Sales & Marketing (Longview Solutions Inc.)
EVP - Professional Services (Business Propulsion Systems)
Describe the most enjoyable and challenging aspects of your job:
Combining management consulting with my writing, speaking, photography and global Travel Concierge services. Balancing my work with following my passions in life.
What are your strongest memories while you were studying at the University of Ballarat?
The lifelong friends I've made and still in contact with, even though we've had very diverse paths since then our time at Ballarat was a defining time in our lives.
Do you have any advice about life after study to pass on to current students?
Seek out your passion early in your career and follow your dreams – have the courage to leap you'll never regret it.