PIRES, ALFREDO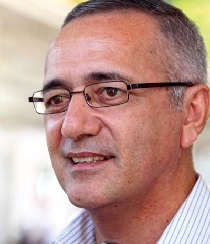 2014 International Alumnus of the Year
Degree
Bachelor of Applied Science (Geology)
Graduation year
1988
Current position
Minister for Petroleum and Mineral Resources - Timor-Leste
Achievements
Alfredo Pires is the Minister for Petroleum and Mineral Resources in Timor-Leste, and is an outstanding graduate of the University of Ballarat. Specifically, he excels in his chosen field of geology and through his professional endeavours, he continues to contribute to the development of his home nation of Timor-Leste, using his training to help guide policies, initiate laws and seek public input. His portfolio is one of extreme importance to the economic future of Timor-Leste, and he is acknowledged as steering a path that is both mindful of current economic imperatives as well as future socio-economic opportunities.
Whilst in exile in Australia, Alfredo Pires became the first Timorese to train as a geologist. Since returning to Timor, Alfredo Pires has:-
Spearheaded the development and reform of the petroleum sector with the creation of the National Petroleum Authority (NPA), the National Oil Company & an Institute of Petroleum & Geology.
Forged a strong "After Oil" policy, encouraging his Government and people to see oil as only an engine of growth, and to also invest in the non-oil sector.
Fostered the profession of Geology in TL by providing opportunities for young people to study geology and provide their own insights to resource management (currently more than 160 students are on scholarship, studying geology and related fields).
An exceptional aspect of Alfredo Pires' career is that he made "engagement" central to his modus operandi, specifically:
Ensuring local involvement: Pires has been among those leading the charge for civil society engagement and transparency, such as through engineering Timor-Leste's compliance with the Extractive Industries Transparency Initiative (EITI) which promotes collaboration with local civil society organisations.
Effective international advocacy:; while Pires is clear in his philosophy of "Sovereignty and Ownership of natural resources", Pires has forged an extensive network of relations, which has seen TL recognised internationally for its advances in transparency (as evidenced by its hosting of regional meetings for oil and transparency).; Added to this, Pires has demonstrated his capacity as a consummate diplomat in his interactions with the Australian Government where he is able to progress his nation's interests while preserving inter-country relations.