PARAMESWARAN, Preman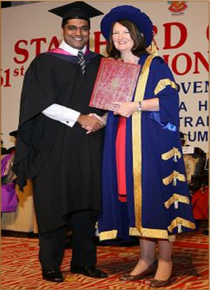 Degree:
Bachelor of Business
Graduation year:
2005
Current Position:
Liaison & Marketing
Employer:
Olympic Council of Malaysia
What are some of your career highlights?
Being part of the core team to set up an all new, first of its kind local sports channel in Asia
Successfully coming up with marketing and content strategy for the channel since its inception
Educating local national sports bodies / associations on how to market and popularise their sports to masses and increasing their revenue through intensive marketing and broadcasting rights.
Describe the most enjoyable and challenging aspects of your job:
For me, I don't consider it as a job but passion. As sport is my passion, working in the sports industry is something I love and enjoy doing on a daily basis
Challenges
1. Creating local sports content for local pay per view television station
2. Working with local sports association and world class local athletes.
3. Popularising local sports and athletes to Malaysians viewers
What are your strongest memories while you were studying at the University of Ballarat?
Making new friends especially with international students
Making new friends especially with international students.

Strong support from academician and also program officers.

Last but not least, graduating from the University of Ballarat is the best memory/experience which I will cherish for the rest of my life.
Do you have any advice about life after study to pass on to current students?
Always generate and focus on positive thinking even during hard times.

Dream the impossible

Always look to challenge yourself

and never fail to look for new opportunities