PAARHAMMER, Edith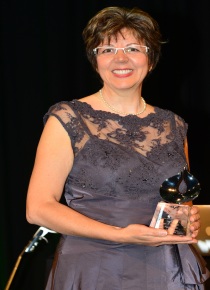 Degree
Advanced Diploma Business Management,
Advanced Diploma Human Resources
Graduation Year
2006, 2007
Current Position
Marketing & Business Development Manager
Employer
Paarhammer Windows
In 2014 Edith was awarded the Australian Windows Association "Woman of the Year 2014" award for outstanding contributions to the window industry.
What are some of your career highlights?
Over the years the company has invented a few new products including windows and doors for the highest Bushfire Attack Level Flame Zone (BAL-FZ) and received recognition through several awards and media coverage.
Another highlight is that our products are now shipped to all States of Australia for residential and commercial applications where energy efficiency, sound protection or bushfire safety is called for.
Describe the most enjoyable and challenging aspects of your job
The most challenging is to market a small business on a shoestring and it is still hard for me to do public speaking.
The most enjoyable is to see that our staff are proud of what they achieve when we get positive feedback from clients, big or small.
Another positive aspect is that I can further causes like energy efficiency and sustainability in the building industry.
I am also delighted that we are able to grow our regional manufacturing business to cover 20 staff of which some have stayed with us for between 10 and 20 years.
What are your strongest memories of your time studying at the University?
I achieved my advanced diplomas through 'Fast-Track' courses and absolutely loved learning! It was great to get to know fellow students from a diverse range of industries and our tutors were very knowledgeable and always made the sessions very interesting..
Do you have any advice about life after study?
Try to get work in an industry you enjoy and stick with it.
In one sentence what words of wisdom would you pass on to students
Work hard but enjoy life and take time out to smell the roses.