NGUYEN, Thuy Thi Thanh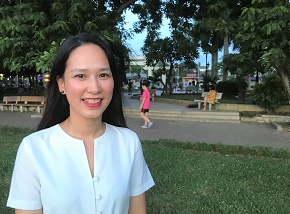 Degree
Masters of Professional Accounting
Graduation year
2009
Current position
Consultant
Employer
Kenan Institute Asia, Hanoi
Nguyen Thi Thanh Thuy graduated in 2009 from FedUni's Master of Professional Accounting degree at the Mt Helen Campus in Ballarat. After returning to Vietnam, she found a job at Deloitte, one of the world's leading accounting and consultancy firms. Thuy now works as a consultant at the Hanoi office of Kenan Institute Asia, a non-profit organisation aimed at empowering people to develop their skills and achieve their dreams.
'Federation University shaped who I am today,' says Thuy. 'Living in a new country, in a multicultural environment gave me so much more confidence and independence, as well as a new perspective on people and the world around me. The course itself gave me a lot of knowledge and experience that I continue to apply to my work, especially all the soft skills that make such a difference to professional life.'
After originally starting her MPA at a Sydney-based university, Thuy soon found herself looking for a change of scenery. 'I decided to move to FedUni because of the more affordable living costs and tuition fees and the promise of meeting more local students. I wanted to practise my English more and learn about Australian culture.
'Ballarat was the perfect place: a nice, small city with really friendly people. On the day I arrived, I met a local couple at the bus station who saw I was confused and offered to give me a lift to campus with all of my luggage. That act of kindness gave me a lot of confidence that I'd moved to the right place.'
While studying at FedUni, Thuy was happy to meet a more diverse group of students and friends. 'We had a small Vietnamese student community – about five people – which was great because it meant that, while we became very close, we also had lots of time and space to meet locals and other international students. There was a great international student community, and we had a fun social life and nightlife.
'I joined some social activities and went on some wonderful trips, including a camping trip with other internationals to the beautiful Grampian Mountains, and a trip with an Aussie friend to Tasmania, where I met lovely people who I still keep in touch with.'
Thuy also appreciated the academic life at FedUni. 'I felt very comfortable and confident on campus because of the friendships I had, the great teachers I had and the excellent student support that was provided. One of the highlights of the degree was that some of our modules involved students from other courses, which gave us the chance to meet more people and discuss issues from different angles.
'There's a great open-door policy at FedUni – you really get to know all the staff and can ask any of them for help. My teachers were very encouraging and inspiring, and they were genuinely interested to learn about Vietnamese culture. Two of them have travelled to Vietnam and visited me since I left.'
After graduating, Thuy decided to return to Hanoi and see how the job market was. 'I quickly found work in the tax advisory department at Deloitte, which was a great place to use all the skills and the English I'd learnt while abroad. I was there for four years and became a senior tax consultant. I also met my husband there, and we now have two young children.
'While I was pregnant with my second child, I did voluntary work with Kenan, a non-governmental organisation that does great social development work across Asia. After my maternity leave, they offered me a full-time job. It's a very different experience to working in a big organisation. I get the opportunity to meet lots of people, travel overseas and see exciting projects develop. I feel like I'm adding value to my community and my country. It's very satisfying and rewarding work.'