LEONARD, Earl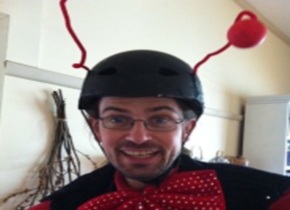 Degree
Bachelor of Arts
Graduation year
1999
Current position
Creative Writer and Musician / Entertainer
Employer
Self-employed
I studied a Bachelor of Arts (BA), with majors in literature, media studies and sociology and a philosophy minor. I finished in 1998 but my graduation date was 1999. Where possible I focused on units to do with children and traditional story-telling.
These days I am self-employed in two roles; as a creative writer and as a musician/entertainer. As a musician I primarily perform for pre and early-primary-school aged children, at events, schools and functions.
As a writer I am currently under contract to provide the plot, text for voice-overs, and character, place and item descriptions, for an educational computer game about grammar, that is set in an original fantasy universe. The program is for use in schools, and is designed specifically for Year 7 students, but also available to be used with Grades 5 & 6 and Year 8 students.
The various units I studied at UB on creative writing, fantasy literature, gothic literature, mythology, children's literature, children's media, poetry, politics and philosophy have all come in handy for the above role. Of course, that these were the areas I focused on during my time studying was a major factor in me securing this, and prior, contracts. I have also written articles and editorial for publications focused on music, children and parenting, as well as scripts for both children's and romance comic book anthologies.