GILSON, Deanne
2021 Aboriginal and Torres Strait Islander Alumna of the Year
Degree
Bachelor of Visual Arts (Fine Arts); Bachelor of Arts (Visual Arts) (Honours); Certificate IV in Visual Arts & Contemporary Art & Craft; Graduate Diploma of Education (Secondary)
Graduation year
2009, 2010, 2011, 2012.
Dr Deanne Gilson is a proud Wadawurrung woman and award-winning multimedia visual artist. Graduating with a Bachelor of Visual Arts (Fine Arts), a Bachelor of Arts (Visual Arts) (Honours); a Graduate Diploma of Education (Secondary) and a Certificate IV in Visual Arts & Contemporary Art & Craft between 2007 and 2012, before going on to complete a Masters of Art in 2015 at Deakin University and a Doctor of Philosophy in 2021 at Deakin University.
Deanne's commitment to her Aboriginal culture is central to both her art and community engagement with connectivity to people and Country at the core of her work. Country spelt with a capital 'C' for its importance. She has exhibited extensively across Australia and will be exhibiting in her first international exhibition in New York in 2022.
What are some of your career highlights?
Career highlights include being invited to exhibit in New York in 2022, the NGV in 2023, a Melbourne Art Tram in 2021, being included in the new Blak Design team 2022, attending Business of Design Week in Hong Kong 2018 exhibiting her fabric designs as a body of garments, a City of Ballarat commission to create a permanent large-scale ancestral stone circle public artwork, 'Murrup Laarr, Ancestral Stones' at Lake Wendouree; bringing creation tree stories to life through film and 3D sculpture at both the Ballarat and Melbourne White Night Festivals, designing cultural costumes for Victorian Opera's performance of Parrwang Lifts the Sky. Being shortlisted for the 66th Blake Art Prize; and being awarded the 2020 and 2021 City of Melbourne Lendlease Painting Awards. The Australian Catholic University Award for capturing the Spiritual in Art, a solo exhibition at the Art Gallery of Ballarat titled Body of My Ancestors, just to name a few. Along with teaching her culture in schools through art and cultural awareness training workshops having taught over 15,000 students. Deanne proudly conducts Welcome to Country and Smoking Ceremonies across Wadawurrung Country, with a special mention to welcoming Sir Bob Geldof and Prince Edward Earl of Wessex at Federation University.
What are your strongest memories while you were studying at the University?
I love the ceramics studio. Peter Pilven is the most giving lecturer and I loved the painting studio with Dr Loris Button and Rosalind Lawson. I created probably around 1000 artworks while at university. I'm obsessed with art. They really supported me and I am forever thankful to them and their gentle guidance. Ballarat produces world class artists.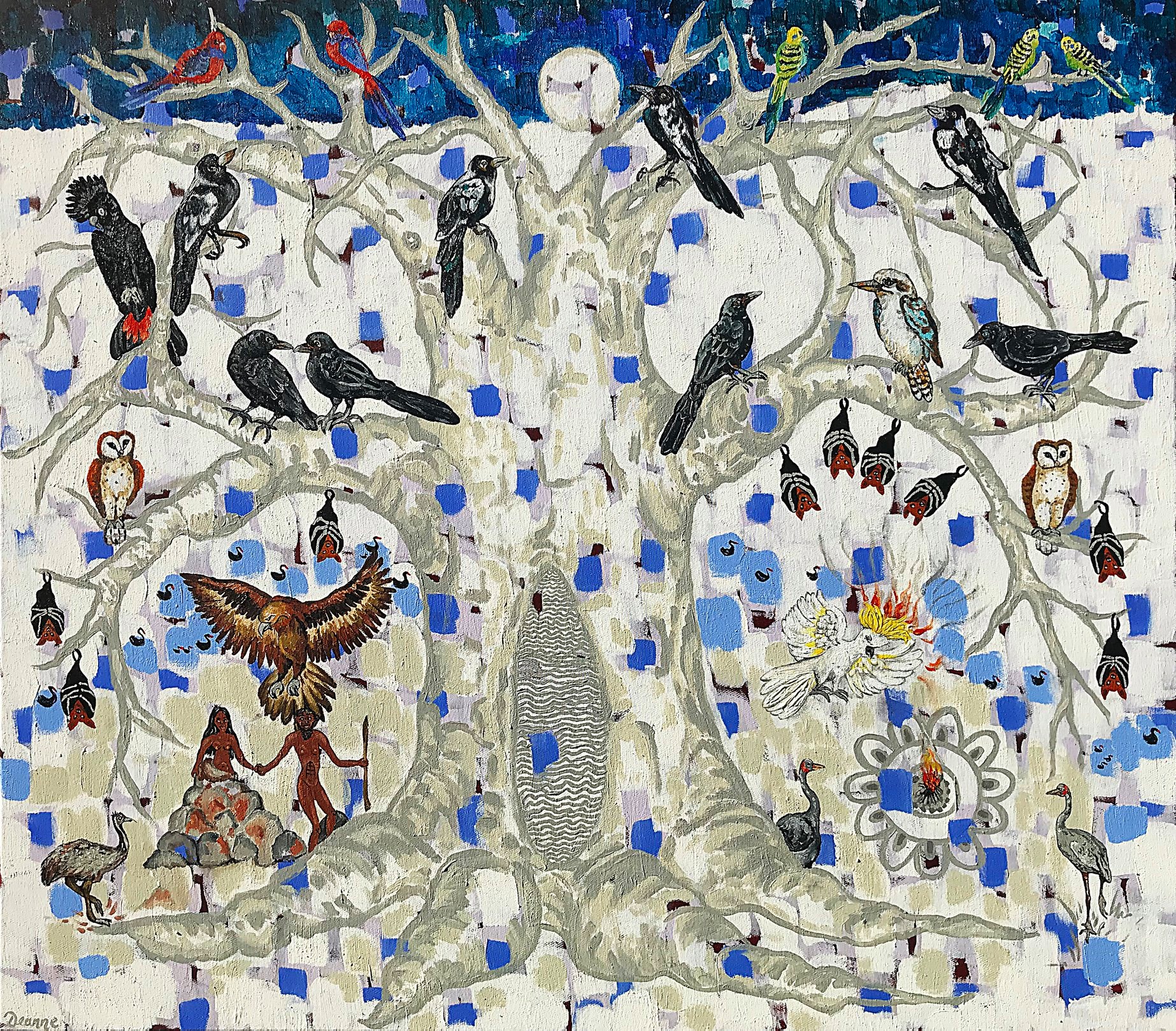 Karringalabil Bundjil Murrup, Manna Gum Tree (The Creation Tree of Knowledge)