BEALE, Anne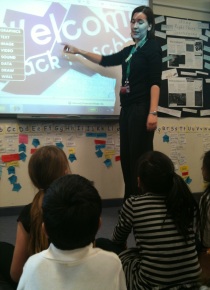 Degree
Bachelor of Arts / Bachelor of Teaching
Graduation year
1999
Current position
Primary Teacher
What are some of your career highlights?
Teaching at an International School in Guangzhou China for two years.
13 years of teaching in large and small schools.
An assessment tool that I had created being recognised as exemplary by VCAA and then being asked to contribute to collecting student work samples for the ACARA project for the Australian Curriculum.
Describe the most enjoyable and challenging aspects of your job
As a primary teacher I have the opportunity to watch students engage in an activity and then have an 'a ha' moment. This is the most rewarding part of my job. Challenging in knowing that you only have the students for one year and then they move on.
What are your strongest memories while you were studying at the University of Ballarat?
Walking across the bridge from the Residences in a t-shirt to go to class in the morning and it snowing on the walk back in the afternoon!
Watching the rest of the Rock Climbing and Outdoor club abseil off T building.
Do you have any advice about life after study to pass on to current students?
See every opportunity as a learning opportunity.
As Emerson states: 'What lies before us and what lies behind us is nothing compared with what lies within us.'