HOWE, Belinda Kate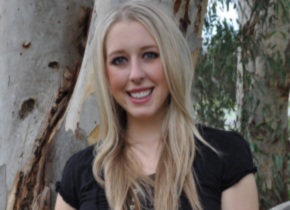 Degree
Bachelor of Arts - Music Theatre

Graduation year

2007

Current position
Professional Performer
Personal Trainer, Group Exercise Instructor
Registrations Administrator

What are some of your career highlights?
Cast member in Underbelly 4 'The Man Who Got Away'
Voice Over Artist - 7-eleven summer slurpee campaign (Radio)
Voice Over Artist - Melbourne University (television commercial)
Sleeping Beauty in Alpha Shows National touring Disney rock adaptations
Fairy God mother and Ugly Step Sister in Alpha Show's Cinderella
Children's entertainer and Party Hostess - Polka Dot Entertainment
Guest teacher for 2010 VCE Dance students in Ballarat
Dance Choreographer for Tasmanian Dance School.

Describe the most enjoyable and challenging aspects of your job
A performing arts career is never dull. Job security and long term employment are not guaranteed. It is challenging supporting myself financially while maintaining my passion for this Industry. To provide a steady income I am a Personal Trainer and Registrations Administrator for part of the week allowing me to be a singer, dancer and actor when the opportunities present. Acting on set, singing and entertaining children, being part of a team, touring nationally, working on radio and TV - is classified as work! (Getting paid for doing something you love is just an added bonus). Being on the set of Underbelly was a great experience and one of the many aspects of working in this industry is the opportunity to work with so many other talented performers from all different backgrounds. My next exciting opportunity this year is to teach and choreograph Dance in the USA for 3 months then continuing onto Europe and Japan.
What are your strongest memories while you were studying at the University of Ballarat?
Making some of the closest friends I will ever have. We had 38 contact hours a week during our study and most of it was active (dancing, singing, acting, show rehearsals) so we became family. The work we did was challenging at times but by far more rewarding. We were given great performance opportunities throughout the 3 years of study which prepared us well for our venture into the industry.
Do you have any advice about life after study to pass on to current students?
Stay pro-active. It's really easy to fall into a static routine but you need to remain pro-active and involved in the Performing Arts industry to ensure that you are fully aware of upcoming auditions and opportunities to perform. Maintain the hunger and be determined and continue enhancing your skills.