CLELLAND, John Thomas Huyton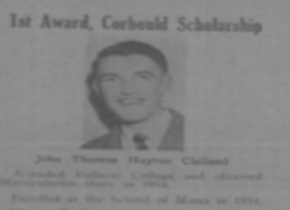 John Clelland was born on 11 June 1936 in Glasgow, Scotland, and migrated to Australia with his family at 10 years of age.
John attended Ballarat College, obtained Matriculation in 1953, and enrolled at the School of Mines in 1954. He gained 18 credit passes in the course of his diploma work. He was president of the Students' Representative Council, captain of the football team, and was awarded the Honour Blazer for 1956.
When John graduated, he was awarded the Mica Smith travelling scholarship from the Corbould Bequest in 1957. He spent six months in Kalgoorlie and six months in Mount Isa and Broken Hillas part of this experience.
In Australia he married Loretta (nee Shirley) and from there they travelled to Canada, where he commenced employment with Falconbridge Nickel processing nickel deposits in the Dominican Republic.
After 16 months in the Richvale Laboratory in Toronto, he was transferred to a pilot plant in the Dominican Republic. The process was patented in the 1970's, reaping the benefits of his hard work, and he became President and General Manager of Falconbridge Dominicana.
While President he established a foundation to aid in the culture, education and living standards for the Dominican people.
John Clelland died on 15 January 2012 at Savannah, Georgia, USA.