Former Chancellor portrait unveiling
A portrait of former Chancellor, Dr Paul Hemming AO, was unveiled at the Founders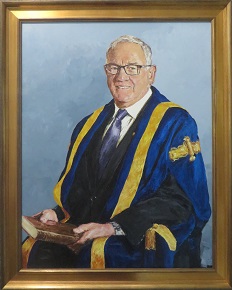 Theatre Foyer, Mt Helen campus, on Tuesday 6 May 2019.
The official portrait of the fifth Chancellor of Federation University Australia was painted by artist Ron Penrose.
Dr Hemming held the office of Chancellor from July 2012 to December 2018. He guided the University through its name change from the University of Ballarat to Federation University Australia, and its expansion to include campuses in Gippsland, Berwick and Queensland.
The portrait will be hung in the foyer of the Caro Centre.