151 year Geoscience celebrations
Federation University Australia is inviting the community to attend a series of virtual talks exploring the historical, archaeological, economic and social influences of mining in central Victoria. The University has a rich history of education and research in the geosciences, dating back to the launch of the School of Mines Ballarat in 1870.
The Victorian goldfields produced an estimated 2,500 tons of gold since 1851, most of which was recovered prior to 1920 from shallow alluvial workings, but recent years have seen a resurgence in exploration and mining in the region.
Federation University Vice-Chancellor and President, Professor Duncan Bentley says, "The Victorian gold rush era helped shape central Victoria and indeed is a key part of the University's foundation, with the formation of the School of Mines Ballarat 151 years ago."
"Federation is delighted to launch the first in a series of talks celebrating the region's rich history and the ways in which industry, education and community are inextricably linked – this is just as true today as it was in the 1800s."
'SMB - Educating a workforce for the world' presented by Professor Erik Eklund, Historian Federation University, will be held on Tuesday 10 August. Register now.
From the late 1850s mining was changing rapidly with new developments, new techniques and new challenges. The Ballarat School of Mines was established as part of a global movement to develop technical expertise and professionalise the industry.
SMB went on to prepare and educate a workforce who not only found employment in the mines of Victoria and beyond, but who branched out into entirely unrelated industries. The SMB graduates became part of a mobile skilled global workforce seen not just as technical leaders but as managers and entrepreneurs of the new industrial age.
'Sludge – disaster on the goldfields' presented by Professor Susan Lawrence, Archaeologist La Trobe University, will be held on Tuesday 14 September. Register now.
The young colony of Victoria's economic wealth was founded on gold – but at what cost? Mud and sludge from the goldfields gushed down rivers and onto floodplains spreading a thick ooze over the landscape and having devastating consequences for farmland, people, plants and animals downstream.
Susan will explain how the lessons learned and battles fought by early environmentalists of central Victoria now form the basis of improved erosion control, revegetation programs and catchment management strategies around the world.
A third in-person event, Stories from Stone, is planned for Tuesday 12 October with more details to follow.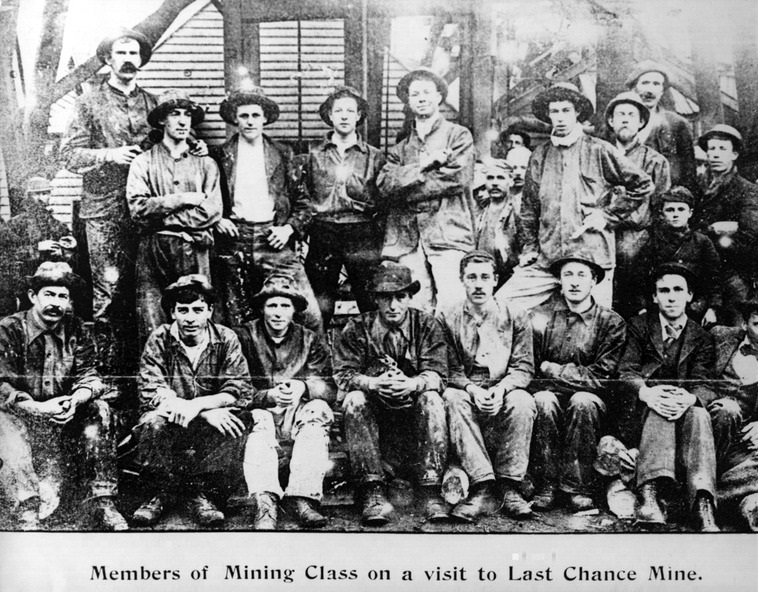 School of Mines , Ballarat, students visit the Last Chance Mine, c 1898, Federation University Historical Collection