Honour Board unveiled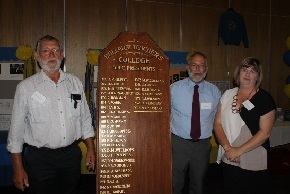 Following the Ballarat Teachers College (BTC) Reunion in November 2016, Denis Speilvogel dropped some memorabilia out to the Alumni Association at FedUni. It was great to be shown where all of the old BTC items were. eg the Leonard French that was in the Foyer and the Moose in Glass Slippers.
To my surprise when shown the Honour Board with the ex-Presidents of the SRC, there were two missing names from – Rod Lindsay (1972) and Neville Sonego (1973).
As we had funds left over from the BTC reunion held in November, I offered to organise for the two missing names to be added to the Honour Board. These changes were made and the Honour Board was unveiled and presented to Pam Sutcliffe, Alumni Officer at the BTC 50 year reunion of 1967 students held on Saturday 4 March, 2017.
Dennis Speilvogel
Ballarat Teachers College graduate