Circular Economy
This research stream mobilises environmental engineering, advanced monitoring and modelling expertise to improve how we use and re-use products and waste.
These disciplines represent the primary drivers defining circular economy, which this stream builds upon.
It uses emerging techniques to provide the tools needed to inform industry, government and community of the optimisation in the use and re-use of product and waste streams.
This stream will integrate its University internal links with the Carbon Technology Research Group and experts in areas such as advanced monitoring technologies (sensor networks, Internet of Things). It will build on established relationships with organisations such as Food & Fibre Gippsland, water utilities, CSIRO and Australian Carbon Innovation to develop novel solutions and new products.
Research stream leader
Associate Professor Ooi Ean Tat
School of Engineering, Information Technology and Physical Sciences
Expertise: Computational mechanics, structural engineering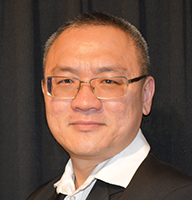 Dr Ooi Ean Tat is an expert in structural engineering. Dr Ooi received his PhD in mechanical engineering from Nanyang Technological University in 2006 and has held research positions in the National University of Singapore, the University of Liverpool and the University of New South Wales prior to joining Federation University.
Ean Tat's field of research is in computational mechanics. He is internationally recognised as an expert in the scaled boundary finite element method. His research has conceived several key developments that have enabled the scaled boundary finite element method to be applied as a general numerical analysis tool for many inter-disciplinary engineering problems.
Ean Tat's research interests include: failure and damage modelling of materials and structures; multi-physics modelling of engineering systems; and image-based modelling of land/slope stability. His research has attracted Australian Research Council funding. He was the 2018 recipient of the Vice-Chancellor's Award for Research Excellence and has published more than 80 journal and conference research papers.
Contact
For queries about FRRC's research, or to discuss collaborating or researching with us, get in touch with the Centre Directors via the Contact page.