IRMA
Data management
The recording, storage and management of research data at FedUni is guided by the Australian Code for the Responsible Conduct of Research.
The Code advocates and describes best practice for both universities and researchers and includes guidance on how to manage research data and materials, publish and disseminate research findings, conduct effective peer review, and manage conflicts of interest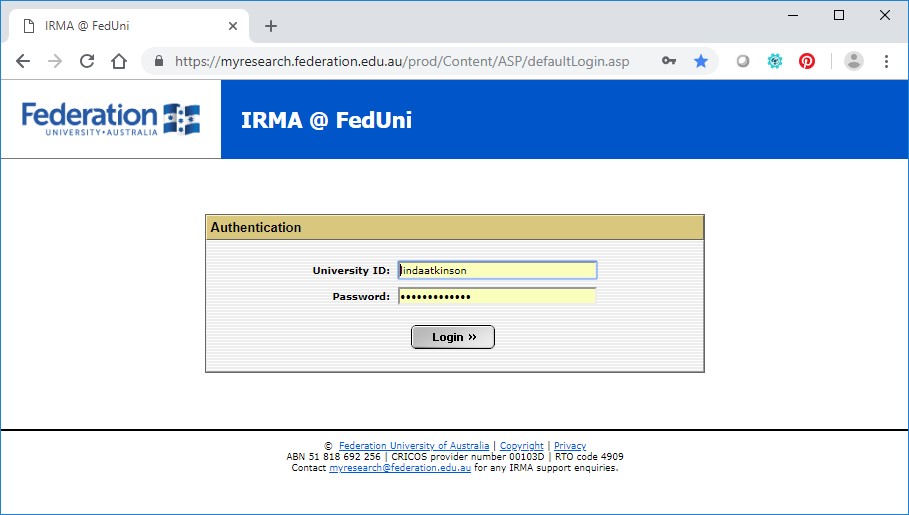 .
The University is in the process of implementing a new research management system to replace Research Master. FedUni research data or myResearch will be recorded and managed in a system called Integrated Research Management Application (or IRMA as it is more commonly known).
The publications Module is the first module to be made available to researchers and Schools.
myResearch research outputs
Whilst every effort has been made to update research publications, not every publication has been accounted for. Publications will continue to be added on an ongoing basis.
Publications beginning from 2015 are verified and are currently the most reliably validated outputs. In time all staff outputs will be displayed.
Research outputs information is recorded and stored in the Publications module and includes all bibliometric information such as: Publication year, Output type, Title, Numbers of internal/external authors, Journal name, Volume, Issue number, Start and end page numbers, DOI, Scopus ID, Co-author names, Citation count.
Research outputs are collected through various sources such as harvested directly from Scopus, Web of Science and manual entry
System support and training
IRMA, How-to guide (PDF, 943 kb)
Frequently asked questions (FAQ) about IRMA (PDF, 21kb)
Log-in tips
Authenticate your network username and password to log into IRMA.
When working remotely, you must log into the VPN before logging into IRMA. (Access the Federation University VPN here)
IRMA - A quick overview