News and events
Check this page regularly for FRRC's latest news and upcoming events. Here you will also find our archive of past news and events.
Events
AusIMM Regional Symposium: Narrow Vein 2022 and President's Dinner
Continuing a proud partnership between the Federation University (Future Regions Research Centre) and tAusIMM's Central Victoria Branch, the 7th Regional Symposium is again bringing technical excellence and innovation to mining professionals and students in regional Victoria. To be hosted at the at Federation University's Mt Helen Campus on Friday 12 August, the event continues to build on the connection of industry, its future graduates, and research. It is expected the event will be a cross-section of the mining industry across the state and abroad, including exploration, mining and service companies.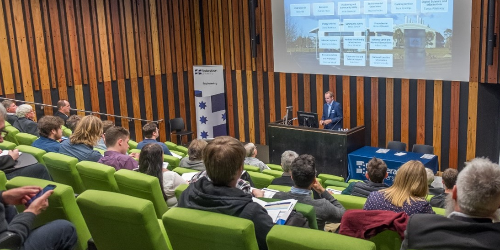 This year's Symposium's topic is Narrow Vein 2022. It will target technical excellence in narrow vein deposits, the Symposium will discuss case studies showcasing advancements and innovations in the field of exploring for and mining these challenging orebodies. The full program of speakers and topics for the symposium is attached.
The regional symposium is further complemented by the President's dinner in the evening. With distinguished guest AusIMM President Dave Clark and guest speaker Thomas Baumgartl, Director of the Future Regions Research Centre, this evening promises to be a great night to round off the symposium!
The symposium will also be lived streamed. Interact online with questions to speakers and don't miss a minute of the discussion. Registration for in-person or online attendance is essential.
Key dates:
Dinner registrations close 7/8/2022
Symposium Registrations 10/8/2022
Narrow Vein Symposium
Venue: Geoffrey Blainey Auditorium C001, Federation University, Mt Helen
Date : Friday 12 August, 2022
Time : 8:45am - 4:30pm
President's Dinner
Venue: The Grand, Ballarat
Date: Friday 12 August, 2022
Time: 6:30pm - 10:00pm
News
Biodiversity Across Borders Conference 2022 Success
The Future Regions Research Centre hosted a very successful 9th Biannual Biodiversity Across Borders Conference on 10 June 2022, focusing on the key issues of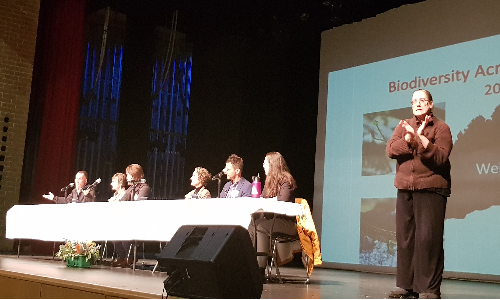 Biodiversity conservation - How do we make decisions for biodiversity conservation?
New technologies - Do we need to change the way we do research?
Environmental history - What can we learn from the past to guide the future?
In partnership with La Trobe University, Deakin University, Charles Sturt University, University of Melbourne, RMIT, Parks Victoria and other research partners and sponsors, the conference saw over 350 researchers, industry experts, students and interested member of our regional communities come together at Mt Helen Campus to share their knowledge and experience and learn more about addressing some of the critical challenges we face in environmental care and conservation.
Professor Brendan Wintle, well-known for his research in conservation ecology, ecological modelling and threatened species conservation delivered the keynote address. Plenary speakers included Professor Katie Holmes (La Trobe University), Dr Liz Znidersic (Charles Sturt University) and Dr Paul Gibson-Roy. They were supported by an exciting and eminent group of over 25 speakers who presented research findings and participated in panel discussions.
A frequent comment from the animated audience was how good it was to be able to meet face-to-face again and have real opportunities to meet colleagues and strengthen connections across the biodiversity network. A large part conference's success was due to the planning and organisation undertaken by Professor Singarayer Florentine, Co-Director of the Future Regions Research Centre. Thanks and well done Florry!
---
Updates from the Resilience of Landscapes and Aquatic Systems Stream
FRRC to continue partnership with Centre Highlands Water
Staff from the Future Regions Research Centre recently held a workshop with Central Highlands Water where commitments were made to continue their more than a decade long relationship. Broad discussions were held on workforce planning, research collaborations and a range of other matters of joint interest.
Funding for Winton Wetlands modelling
Associate professor Andrew Barton has secured $10,000 to develop a simple water balance model for the Winton Wetlands. This is the continuation of work to create a functional but simple model to better estimate the watering requirements of the wetland system. The tool will help with the environmental planning of the wetlands and inform key investment decisions around environmental watering, flow regimes and wetland health.
Recent conference and meeting presentations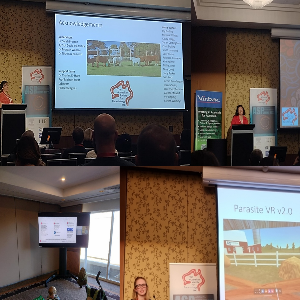 Dr Sarah Preston, Ms Leni Horner (PhD candidate) and Ms Victoria Chew (Honours student) report from the annual Australian Society for Parasitology (ASP) Conference in Cairns which they attended in July. It was a great atmosphere and opportunity to catch up with colleagues and for students to build their networks after a two-year hiatus of face-face conferences due to COVID.
Sarah presented her research on virtual reality adoption in a tertiary setting, Leni presented parts of her PhD research on understanding the immune response to worms in horses with an endocrine known as pituitary pars intermedia dysfunction (equine Cushing's) and Victoria presented her honours thesis on creating a breeding index for selection of worm resistant sheep.
Very impressively, Leni's and Victoria's abstracts were selected for 15-minute presentations from 138 abstracts. The ASP is a family friendly conference allowing parents of young kids to also join in by setting up a parent's room at the conference (see below). Sarah, Leni and Victoria would like to thank the ASP and Federation University for providing financial support to attend this conference.
---
Dr Ben Long contributed two talks at the Royal Australian Chemical Institute Congress. 1. Quantification of Pharmaceuticals in Surface Waters and Riparian Flora in South-eastern Australia, 2, The Bush Medicine Project: An Authentic Cross-Discipline, Cross-Course and Cross-Campus Learning Experience
---
Dr Jessica Reeves provided a presentation entitled Acknowledging the Scar: Revisioning the future of the Latrobe Valley, at the Institute for Australian Geographers meeting in Armidale. She also joined the Forestry Transition Industry in Orbost Working Party as part of the LVAs Smart Specialisation project.
---
Dr Birgita Hansen is organising for the Australasian Shorebird Conference October 29 and 30, 2023. This will be an online conference. Registration is currently open. The call for abstracts is also open and researchers are encouraged to consider submitting to present. Brigita and Pat Bonney have also had a paper published on long term citizen science with CSIRO Publishing.