Choudhury, Tanveer (Dr)
Email: t.choudhury@federation.edu.au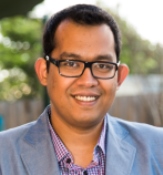 Room: 4N245
Phone: 5122 8481
Biography
Tanveer currently works as a lecturer of mechatronics in the Institute of Innovation, Science and Sustainability at Federation University Australia, Gippsland Campus.
Prior to obtaining his PhD in engineering from Swinburne University of Technology, Melbourne, Tanveer obtained his Bachelor of Science degree in electrical and electronic engineering. He then worked for two years as RF engineer in Ericsson, where he was involved with various large scale telecommunication projects in Bangladesh, Kenya, Benin and Ivory Coast.
In his PhD, Tanveer worked on numerical modelling and designing a predictive on-line control system for an atmospheric plasma spray process. He specialises and has active research interest in mechatronics, machine learning, predictive control systems, artificial intelligence and their applications.
Tanveer's teaching areas are in the field of mechatronics and electronic engineering. He is currently working on developing course materials for the new degree program in mechatronic systems engineering to be offered through Gippsland Campus of Federation University Australia.
Qualifications
Doctor of Philosophy - Swinburne University of Technology 2013
Bachelor of Science (Honours) - Islamic University of Technology (IUT – OIC), Bangladesh 2007
Publications
Journal articles
T. A. Choudhury, C. C. Berndt, and Z. Man, Modular implementation of artificial neural network in predicting in-flight particle characteristics of an atmospheric plasma spray processes (Under review – Journal of Engineering Applications of Artificial Intelligence)
T. A. Choudhury, C. C. Berndt, and Z. Man, An extreme learning machine algorithm to predict the in-flight particle characteristics of an atmospheric plasma spray process, Plasma Chemistry and Plasma Processing, vol. 33, pp. 993-1023, 2013
T. A. Choudhury, N. Hosseinzadeh, and C. C. Berndt, Improving the generalization ability of an artificial neural network in predicting in-flight particle characteristics of an atmospheric plasma spray process, Journal of Thermal Spray Technology, vol. 21, pp. 935-949, 2012 (Citations: 5)
A. Aziz, M. A. Imteaz, T. A. Choudhury and D. I. Phillips, Applicability of artificial neural network in hydraulic experiment using a new sewer overflow screening device, AJWR: Australian Journal of Water Resources, 2013 (Citations: 1)
T. A. Choudhury, N. Hosseinzadeh, and C. C. Berndt, Artificial neural network application for predicting in-flight particle characteristics of an atmospheric plasma spray process, Surface and Coatings Technology, vol. 205, pp. 4886-4895, 2011 (Citations: 9)
Conference proceedings
A. Aziz, M. A. Imteaz, T. A. Choudhury and D. I. Phillips, Artificial neural networks for the prediction of the trapping efficiency of a new sewer overflow screening device, Proceedings of 'Sustaining our future: understanding and living with uncertainty,' the 19th International Congress on Modelling and Simulation (MODSIM 2011), Perth, Western Australia, Australia, 12-16 December 2011, pp. 3476-3482 (Citations: 2)
T. A. Choudhury, N. Hosseinzadeh, and C. C. Berndt, "Using artificial neural network to predict the particle characteristics of an atmospheric plasma spray process," in 2010 IEEE International Conference on Electrical and Computer Engineering (ICECE), pp. 726-729, 2010
T. Latif, C. M. Ellahi, T. A. Choudhury, and K. S. Rabbani, "Design of a cost-effective EMG driven bionic leg," in 2008 IEEE International Conference on Electrical and Computer Engineering (ICECE), pp. 80-85, 2008 (Citations: 2)