News/events/corporate education
Coffee Gounds as a Source of Biodiesel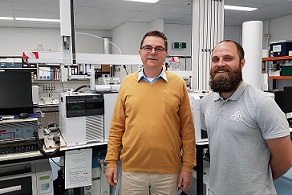 Scott Douglas from Barefoot Pathways recently visited the lab to explore options for adding value to coffee grounds by evaluating their potential as a source of biodiesel.
Over the last 8 months he and his network collected approximately 20kg of coffee grounds per week from 50 cafes, restaurants and bars between Bairnsdale and Traralgon. They turn the coffee grounds into compost, fertilizer and body scrub but collect way more than they can use.
As a result discussion took place around the options for biodiesel production and the option of turning local biomass into value added products.
Advanced Manufacturing Growth Centre Visit
Recently the representatives from the Centre visited OMNIA along with the Director of the Advanced Manufacturing Growth Center (AMGC) Michael Sharpe and the Victorian Director, Michael Grogan. They undertook some site visits to meet manufacturers and gain a greater understanding of the needs and OMNIA was included.
Michael Grogan and Michael Sharpe are both working on a national approach to lift manufacturing across the nation. They provide expert advice to funding bodies in regards to advanced manufacturing project applications. Both directors were in Gippsland to talk with the Centre in the lead up to the development of the Industrial Transformation Research Hub which is connected with the Regional Carbon Innovation and Demo Centre.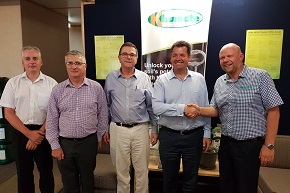 Michael Grogan is a director of AMGC. He is the former CEO of Sutton Tools, an engineerig manufacturer producing and exporting a full range of cutting tools from three Australian facilities and one New Zealand facility. Mr Grogan was appointed as Victorian director of the Advanced Manufacturing Growth Centre in May 2016. He is Chair of the Inner Northern Local Learning and Employment Network; Board Member of Manufacturing Skills Australia – Industry Skills Council; a Director of DMTC; Board Member of the Adult, Community and Further Education organisation and Member of the Victorian Manufacturing Skills and Training Taskforce.
Michael Sharpe has a strong track record in Australian trade & industry including resources, energy, infrastructure & defence. Moving directly from school into the family business Sharpe Bros, he built a highly successful career in a key Australian infrastructure industry. Sharpe Bros is a multi award winning leader in the roads industry, providing innovative services for road surfacing and maintenance operations throughout Australia. The company can trace its roots back over three generations and more than 60 years.
'Carbon to Products Seminar - pathway to a sustainable future'
Brown Coal Innovation Australia (BCIA) in conjunction with Federation University recently held a one-day seminar on Carbon to Products in Churchill to showcase the potential of the carbon resource in the Latrobe region. Associate Professor, Vincer Verheyen was one of the presenters. Read more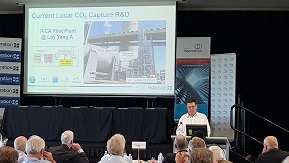 Rubicon Staff Visit for Some Upskilling
Rubicon Outdoor Centre is an outdoor secondary school operated by the Department of Education of Training (DET), they visited the Lab this week to enhance their staffs knowledge staffs knowledge base about energy issues.
A/Prof Vince Verheyen provided a fantastic talk, tour and discussion. 'It really increased our understanding of the issues and complexities in this area' said Paul Banks.
Pictured left to right: Jon Merry, Mark Cook, Centauri Hirt, Maddie Ovens, Paul Banks, Matthew Bretherton (Rubicon Staff) and Vince Verheyen (FedUni).

Bioresource Processing Institute of Australia (BioPRIA)
Thilina is a chemical engineering PhD student at Monash University, Clayton. His thesis is on "Biorefinery Opportunities in a Thermomechanical Pulping Mill" for which he collaborates with Norske Skog Australia Paper Mills at Boyer, Tasmania.
Thilina is currently visiting the CCS Laboratory for resin acids analysis using GC – FID and terpene analysis using Headspace GC. His research interests are thermomechanical pulping, refining, nanocellulose production and application, phytochemicals, biorefineries, life cycle analysis, and technoeconomic feasibility analysis.
Welcome Thilina!
International guests visit the lab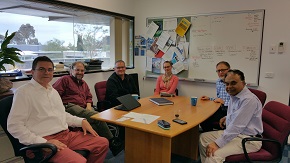 We recently had a visit from a group of International visiting scientists and engineers from the International CSS Knowledge Centre, Canada and the United Kingdom. They were escorted by the CO2CRC to discuss progress in Carbon Capture and Storage and conduct a CTRC Lab tour.
Our center looks forward to collaborating with them in our research projects.
Laboratory staff update their skills
CTRC staff recently attended a training day by ATX updating their skills for utilisation of the Scanning Electron Microscopy (SEM). Training was specifically for the energy-dispersive X-ray spectroscopy (EDS) located at its Federation University Australia, Gippsland Campus. The SEM has the advantage over optical microscopy of greater resolutions and magnifications.
EDX / EDS allows quick, semi-quantitative sample characterisation and can be used to identify surface contamination and impurities located by the SEM examination. EDX / EDS is also required to ascertain if the correct material has been used in the manufacture of a product, e.g. grade of alloy.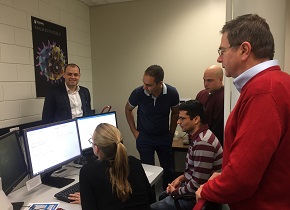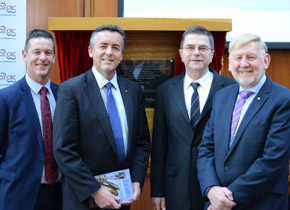 CO2CRC Limited and Federation University Australia officially opened a new carbon capture and storage (CCS) laboratory at Federation University Australia's Gippsland Campus in September 2016.
The Hon Darren Chester, Minister for Infrastructure and Transport and Federal Member for Gippsland, opened this vital technology and analytical resource.
The FedUni laboratory is part of the Australian CCS Research Laboratories Network (CCSNet). It is funded through a $2.3 million agreement between the Australian Government's Education Infrastructure Fund and CO2CRC Limited.
The new laboratory will conduct important research into a range of CCS technologies, with the aim of reducing the cost of implementation so as to make price-competitive carbon reduction options.
"The new laboratory's location at Federation University Australia's Gippsland Campus is particularly fitting, given that nearly 90 per cent of Australia's brown coal reserves are located here," Dr Vincent Verheyen, Director of the Carbon Technology Research Centre at Federation University Australia, said.
"The laboratory will make a significant contribution to the understanding and implementation of solvent-based post-combustion capture at Latrobe Valley Brown Coal power generation facilities.
"While the initial focus of the facilities will be on local flue gas, the knowledge gained will be relevant to other power generators and broadened to pre-combustion coal to product applications around the country and internationally," Dr Verheyen said.
Tania Constable, CO2CRC's CEO, believes that carbon capture storage can and should play a vital role in supporting the renewal of the Gippsland region and Federation University Australia will play its part. Ms Constable said, "CCS is the only proven and reliable technology to remove large scale emissions from power generation and industrial processes. The Gippsland community's plan for action highlights the potential of CCS. This means thousands of jobs for the Gippsland region and will remove over 10 per cent of Australia's emissions."
One of the goals of the Commonwealth Education Infrastructure Funded Centre will be to focus on undertaking future energy training and research towards environmentally neutral and cost effective carbon based technologies.
The facility will provide a community focal point for science on brown coal and related energy knowledge topics. It will provide energy education services to community groups and students from primary school to post-graduate level.