Current international collaborations
Conserving threatened Thresher Sharks in the Philippines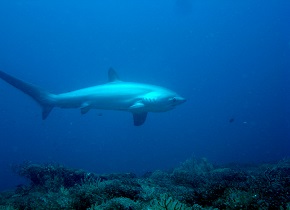 Researchers at Federation University Australia and the University of Chester in the UK are collaborating to create a student experiential learning program that directly contributes to the conservation of the thresher shark in the Philippines. Undergraduate students will have a unique and exciting learning experience, whilst making a meaningful contribution to the conservation of these vulnerable fish and the ecosystems they inhabit. Students will undertake projects and research that promote the regeneration of shark habitat under direction of the Thresher Shark Research and Conservation Project (TSRCP).
The thresher shark is a vulnerable species that inhabits warm temperate waters in the Indo-Pacific region. These sharks are rarely observed and as a result little is known about their biology or behaviour, however it is known that many individuals regularly visit a shallow coastal seamount near Malapascua Island in the Philippines where they engage with cleaner fish and benefit from parasite removal. The predictable presence of multiple thresher sharks in the one place is extremely uncommon, and presents the unique opportunity to study the behaviour and ecology of many individuals at once.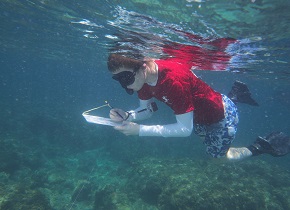 As part of the proposed program, students will perform underwater research (snorkelling) projects off the shore of Malapascua Island that directly contributes to the rehabilitation of the reef by identifying and monitoring suitable locations for coral reef nurseries; sites where corals can be cultivated for later reintroduction to depleted reefs. It is intended that an Environmental Impact Assessment (EIA) report will also be compiled annually, and will be forwarded to the local municipality to monitor the impact the construction of a new pier has had on the local reef system. Students will also have the opportunity to design and perform research projects under the supervision of staff and members of the TSRCP. These projects will help to gain insight into the biodiversity and structure of the offshore reef community.
The data collected as part of this collaborative effort between Federation University Australia and the University of Chester can be used by the Thresher Shark Research and Conservation Project and other local organisations to improve reef health and management, and will greatly improve conservation outcomes for all reef species, including the thresher shark.
Protecting threatened Nepalese wildlife through local community management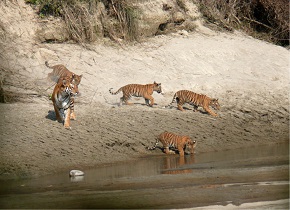 Associate Professor Wendy Wright is currently working with colleagues in Nepal to conserve wildlife in Bardia National Park. Complex interactions between wildlife and the human communities living around the park require research, and community-based skills development programs have been developed that are intended to mitigate human-animal conflict, improve human livelihoods and increase wildlife conservation success.
Bardia National Park supports populations of several threatened species including tiger, leopard, elephant, rhinoceros and gharial, a critically endangered crocodilian. Approximately 60,000 people live in farming communities immediately adjacent to the park. These are largely subsistence farmers, relying directly on their own crops and livestock for survival. They suffer significant losses when wildlife ventures out of the park and into their communities. The animals raid or trample crops, or prey on livestock. Some present a danger to human life.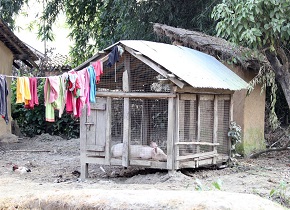 The research team is working with the community on projects to help them protect crops and stock and to supplement their income with conservation-related activities. Many local people have substantial knowledge of the National Park and the fauna that it supports, this project provides training for local people wishing to increase their skills and knowledge as wildlife guides for tourists. Research into wildlife management and sustainable community development is ongoing, and solutions to the problems faced by humans and animals have already been applied, such as the construction of predator-proof shelters for the overnight housing of livestock. These practices will reduce human-wildlife conflict and improve conservation outcomes in Bardia National Park.
Babu Bhattarai, an employee of the Nepalese Department of National Parks and Wildlife Conservation, is one of the collaborators on this project. His PhD, being undertaken at FedUni, focuses on human-tiger conflict and forms part of the wider project.
Acknowledgements

Other key researchers in this project include Ambika Khatiwada (Bardia Conservation Programme, National Trust for Nature Conservation, Nepal), Dr. Simon Cook (Senior Lecturer, FedUni) and Dr. Steb Fisher (Honorary Research Fellow, FedUni).