News/events/corporate education
The Biopathways Partnership Project
This project aids the development of innovative science, inquiry and product development to provide energy from renewable resources. The project is funded through the Victorian government's Workforce Training Innovation Fund, providing Gippsland's Australian Paper (now Opal) along with the broader industry with the opportunity to move towards an advanced biomanufacturing future. The project has funding for both biomanufacturing training course development at TAFE Gippsland and research at Federation University. A multidisciplinary team of engineers, chemists and microbiologists based at Federation University's Churchill campus are working together with Opal to support future job creation and the establishment of knowledge and skills in the biomanufacturing industry, fostering greater education, industry and employer partnerships. This enables sustainable knowledge creation and distribution in biomanufacturing tailored to the Gippsland region, and provides career opportunities for research students engaged in the project.
The research part of this project has three tasks. The first task aims to create more value from the pulp logs by producing valuable chemical feedstocks from their wastewaters. The lignin in these waters must first be separated from the useful hemicellulose. Bacteria then convert the hemicellulose into succinic acid, which could be used to manufacture a bio-polymer. The second task is the commercialisation of alternative or supplementary biomanufacturing raw materials to timber. This task researches ways of adding more value to industrial hemp crops by utilising their stalks as a source of valuable chemicals and improved fibre for bio composite coatings and packaging products. The final task involves synergising the link between the first two by synthesising biopolymers from platform chemicals produced in task one (including succinic acid and lignin) and their conversion into fibre reinforced composites.
The importance of the project is highlighted through Opal's interest in exploring the innovative pathways required to support biomanufacturing expansion in its Maryvale operation. Trends supporting this direction for Opal include requiring new, skilled workers to supplement the experienced and ageing workforce, a shift of focus on creating markets around renewable products, societal demands for sustainable and responsible products, and advanced biomanufacturing is a growth opportunity as the Australian markets for pulp and paper products are mature.
The flow-on effects of this project could enable fuels, chemicals, and other wood-based bioproducts to be produced in Gippsland, helping Gippsland become a regional bioeconomy. With rural communities seeking solutions for local manufacturing assets to expand, new employment opportunities are emerging. This could lead to future employment, especially for Gippsland's science and technology community which has an interest in growing a talented pool of students and researchers who can deliver practical environmental and commercial success.
CTRG finalises PCC Project
A major ($1.586 M) research project funded through Australian Carbon Innovation called 'Environmental and CO2 Processing Implications of Amine Capture System Degradation' has been completed by members of the CTRG. According to the International Energy Agency, post-combustion capture (PCC) of CO2 remains an important technology option for reducing the environmental impact of fossil fuel-fired power stations and industries around the world (2017). The final report from this project describes ways to further reduce the near-term environmental and operational risks related to amine degradation during PCC.
The PCC Project was based in regional Gippsland and involved international partners and research groups. Close collaboration enabled the CTRG to incorporate key research into amine degradation and flue gas variability to an existing research program based on the PICA PCC pilot-scale plant.
Focusing on amine degradation and fly ash variability enabled the CTRG to assist in reducing the environmental and commercial risks of larger-scale PCC by developing recommendations for managing amine degradation during PCC. The data and information generated by the project could form the basis of a mathematical model to predict amine degradation during PCC.
Ultimately, the PCC project assists in refining engineering designs of the PCC process and technology to reduce emissions and waste production. Likewise, the project reduces the risks and uncertainties in amine degradation and the impacts of fly ash variability to maximise the safety and environmental benefits of PCC.
The success of the project is apparent in its ability to develop local skills through generating over 40 regular social media posts, supporting two public forums, and participation in two international conferences. It increased employment and education skills in enabling one HDR student to gain valuable industry experience through a CO2CRC placement and two PhD graduates were employed over the duration of the project.
Bella Garg completes her PhD
Dr Bharti (Bella) Garg recently completed her PhD for Federation University's School of Science, Engineering and IT.
Her thesis, entitled 'Regeneration of sulfur rich amines in a combined capture system aimed to lower the cost of PCC in Australian coal fired power plants', explores how to cost-effectively produce energy in Australia.
Through an examination of carbon capture systems, particularly post-combustion CO2 capture (PCC) and the CSIRO's CS-CAP process, Dr Garg highlights the challenge of utilising PCC technology in large-scale commercialisation.
Despite PCC becoming more technologically advanced in capturing CO2 and its ability to be fitted within existing power plants provided they have the space, there remains high cost challenges and corrosive effects. For this technology to be beneficial, flue gas desulfurisation should be included in its manufacturing.
To overcome these cost issues, the CSIRO has patented a new CO2 capture process which utilises a single absorber tower to remove CO2 and SO2 from flue gases. Dr Garg researched the commercial aspects of regenerating amines in the CSIRO's CS-CAP process.
Dr Garg investigates how effective regeneration techniques are for regenerating sulfur-rich amine through laboratory analysis. These results enabled her to estimate the costs of utilising selected regeneration techniques in the CS-CAP process, and compare it to the costs of the PCC process to see which carbon capture process would be most economical for Australian coal power plants.
Ultimately, Dr Garg suggests that the CSIRO's patented CS-Cap process is a cost-effective carbon capture approach in Australian coal fired power plants.
CTRG scholar Wisnu Surendra researches the value and marketability of hemp compounds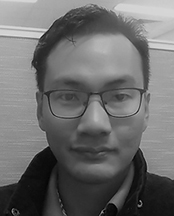 CTRG scholar Wisnu Surendra is undertaking his PhD in engineering through Federation University.
Wisnu is preparing for his confirmation of candidature for his PhD research project. His report currently entitled, 'Hemp Fibre Valorisation', focuses on the chemical and mechanical sides of studying hemp to determine fibre extraction and the marketability of the product.
His project looks at utilising hemp fibres as a source of phytochemicals, questioning whether they can be used as antibiotics or antifungals and their commerciality and economic value.
Through his current review of literature, Wisnu has drawn his passion for research from the idea that hemp has strong antifungal and antimicrobial fibres. This passion has aided his desire to discover what makes hemp valuable and marketable.
Instead of focusing on the more commonly known aspects of hemp, such as the flowers and leaves, he will be studying the stalk to determine the chemical compounds within that part of the plant.
Utilising these discoveries, he will rank the marketability of the compounds. He likens this part of the research to a 'game of chance', as a small percentage of the compounds will have value and marketability.
Wisnu hopes that his research will offer a way to utilise the leftover fibre in other ways, such as a replacement for glass and carbon fibres in biopolymer composites.
Wisnu believes that these leftover fibres could have enhanced surface properties and could be a way to develop a stronger blend for materials that could be used by Australian Paper.
CTRG scholar Deep Halder explores Australian Paper's manufacturing processes
CTRG scholar Dibyadeep (Deep) Halder is undertaking a Masters in Engineering Science through Federation University.
Deep is preparing for his confirmation of candidature for his research Masters project entitled 'Bioproduction of Succinic Acid using Australian Paper's weak black liquor', which is funded by the State Government's Workforce Training Innovation Fund.
The report outlines his project, which focuses on the collaboration between Australian Paper (AP) and Federation University's BioPathways Partnership Project to explore the viability of biomanufacturing in the manufacturing process.
Rising carbon emissions and a surge in energy consumption are key consequences outlined in Deep's project, exposing the necessity of alternative, biomanufacturing processes.
In conjunction with funding, collaboration and university testing, Deep hopes to fill the gaps in literature through exploring the potential to utilise the by-product weak black liquor (WBL) as a chemical alternative to gas and oil feedstocks.
Deep's report illustrates the characteristics and differences between various WBL's due to different pulping processes with chemicals such as sodium hydroxide and sodium sulphide. This leads to discussions of key chemicals in biomanufacturing such as lignin and hemicellulose, which are in abundance in plants.
WBL is possibly toxic to microorganisms which means that pre-treatment is the initial phase of the project, ridding it of lignin and other contaminants. Deep discusses numerous pre-treatment techniques and their strengths and weaknesses.
Pre-treatment is followed by fermentation, which requires pH, temperature, fermentation time and agitation speed consideration. With minimum research on substrates obtained from WBL and succinic acid fermentation using Actinobacillus succinogenes, Deep's research can fill this gap in knowledge.
The fermentation broth gathered will undergo downstream processing (DSP), the last phase of experimentation, allowing succinic acid of high yield and purity to be attained. Methods such as calcium precipitation, direct crystallisation, salting out, reactive extraction, membrane filtration, forward osmosis and aqueous two-phase system were studied.
The lab experimentation process will allow analysis of each step to consider answering Deep's research questions. Suitable material use in the WBL will be determined by employing Fourier Transform Infrared spectroscopy, and analysing adsorption peaks of wave numbers of the groups present, indicating individual components in WBL.
Deep believes his research will provide AP with the foundation to move towards biomanufacturing, increasing its ability to give back to the community in a sustainable way, and possibly increase future job opportunities and create a positive socio-economic impact.
CTRG researcher Alicia Reynolds visits the CSIRO Energy Centre, Newcastle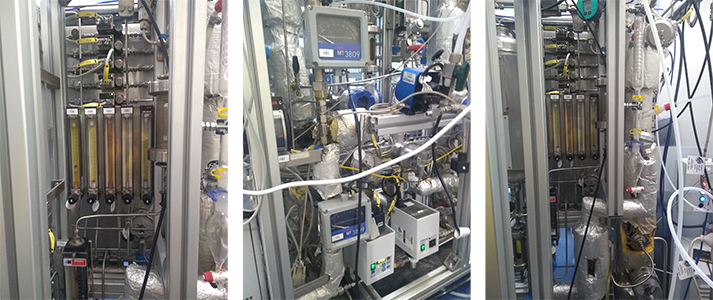 Recently, CTRG Research Associate Dr Alicia Reynolds visited CSIRO's Energy Centre at Newcastle to familiarise herself with and assist in planning tests using the Solvent Degradation Rig (SDR).
The CSIRO-owned and -operated SDR assists in carbon capture research by investigating the interaction of amine solvents with gas CO2 mixtures.
CO2 capture is a useful option for slowing climate change and will be useful in decarbonising industries in the future, such as those working with cement and steel.
The CSIRO works in collaboration with Federation University's CCS lab to test solvent samples by measuring their changes in colour, concentration, and break-down products. This collaboration and research illustrates the importance in understanding why solvent break-down will help in saving operating costs and reduce the cost of capture.
The rig itself is custom built to test and study degradation mechanisms through creating realistic environments that model the real-world capture processes, including the cycling process of absorbing and stripping CO2 within solvent.
This is useful as it is very difficult and expensive to do this research on a commercial large capture system. Given that the challenges of measuring CO2 capture at a larger scale include not being able to clearly examine the changes in colour, concentration, corrosion or oxidation of solvents, Alicia claims the Newcastle SDR is a convenient size for efficient analysis and testing.
Federation University's partnership with Australian Carbon Innovation (ACI) and CSIRO is vital for developing more efficient, effective and environmentally friendly ways to conduct solvent experiments.
Focusing laboratory research on studying the solvents, the process for creating a more viable, cost-effective way to test solvents is becoming a reality. The SDR allows more controlled and targeted experiments on specific parameters that damage solvents than what can be done in a real plant, which are more complex and expensive experiments.
Through these experiments, Federation University's CCS laboratory measures the oxidation and corrosion rates under coal-fired and natural gas-fired flue gas conditions.
This information helps design operating conditions which better protect the solvent from damage in the future, leading to fewer waste products, and will reduce the cost of capturing CO2 from flue gases.
The partnerships, including the ACI funding that made this possible, and access to the solvent samples and rig fit seamlessly into the CTRG aims of developing and exploring carbon capture research and training.
Alicia has a PhD in solvent degradation chemistry, and this background made her ideal to do the project. She has an ongoing passion and commitment to researching the management of amine degradation, working in hybrid chromatography and spectroscopic techniques.
It's these capabilities that have equipped her to confidently support the SDR research program and Federation University's collaboration with the ACI and CSIRO in reducing the cost of carbon capture.
"I have really enjoyed the collaboration with the CSIRO team, and we have been able to confirm behaviours previously only seen in expensive pilot-scale capture plants," Dr Reynolds said.
CTRG scholar Bharti Garg is sharing her carbon capture knowledge with the world
Carbon Technology Research Centre scholar Bharti Garg recently represented Federation University at the Asia Clean Energy Forum (ACEF) in the Philippines to share her research into post-combustion carbon capture.
ACEF, which was recently held from 17-21 June 2019 at the Headquarters of the Asian Development Bank in Manila, is a prestigious event that brings researchers and industry from the Asia and other parts of the world together to address clean energy challenges.
One of those challenges relates to post-combustion capture of carbon dioxide (CO2)from coal-fired power stations, namely the removal of acidic gases such as sulphur dioxide (SO2) prior to CO2 removal, which would otherwise severely affect the CO2 capture process.
This challenge is specifically relevant for countries like Australia, where power stations do not have flue gas desulfurisation (FGD) units installed, potentially making the implementation of post-combustion carbon capture very expensive.
Through her presentation, The CS-Cap Process: A Cost-effective Capture Approach to Australian Coal Fired Power Plants, Bharti shared her work on the innovative CS-Cap process that can help to overcome this challenge.
Patented by CSIRO, CS-Cap eliminates the need to install separate FGD units by using a single absorbing liquid to simultaneously capture SO2 and CO2 from coal-fired power station flue gas.
'If you have a combined single unit, it could potentially offer cost-effective solutions to those investing in the process,' Bharti said.
Apart from the cost benefits, the process might end up requiring less space to the standard method, making it an attractive option for countries like India that, similar to Australia, do not currently have the FGD units installed and heavily depend on coal as an energy resources.
Bharti's presentation demonstrated the CS-Cap process , and generated interest among the attendees from developing nations, particularly India, who were interested in deploying either carbon capture and storage (CCS) or FGD units in their power plants.
'Asian Development Bank wanted me to explain the scope of CS-Cap to people coming from developing countries,' Bharti said.
'I was able to present an Australian case and compare CS-Cap technology with the standard methods that use flue-gas desulfurisation with post-combustion CO2 capture.
Bharti's presentation drew on her research with CTRG, which she joined in 2015 as a PhD scholar funded by CSIRO in the School Engineering and IT under supervision of CTRG Head, Associate Professor Vince Verheyen.
Her research has involved testing of various species in samples from the Loy Yang Power station using the CTRG's analytical and bench-scale facilities.
'This research would not have been possible without the CTRG,' Bharti said.
During a 'deep dive' workshop as part of the carbon capture group at ACEF, Bharti also contributed to discussions on the challenges faced by various nations in deployment of CCS.
Bharti's presence at ACEF provided a vital opportunity to demonstrate the work being done at CTRG on the global stage, connect with peers in the clean energy field and open the way for future collaborations.
'We have shown that this kind of work has been happening at the Carbon Technology Research Centre. ACEF was a very good channel to share the work done in the capture space with various developing and developed nations and global CCS knowledge centres. It opened up possibilities for future Australian joint ventures with nations present at the forum like the US, China, India, Bangladesh, Indonesia, Canada, Europe and the UK ' Bharti said.
Hydrogen forum
A pathway to environmental and regional prosperity – Where to for Gippsland?
When: Thursday 8 August 8:25am–4:30pm
Where: Auditorium (3E), Federation University (Gippsland)
Federation University, in partnership with Australian Carbon Innovation, is hosting a Hydrogen Forum to discuss the possibilities for this low emission 'fuel for the future' in Gippsland. Listen to speakers including Chief Scientist of Australia Alan Finkel and have your questions answered about a sustainable future for the region. Find out more and register on Eventbrite.
Gippsland Tech School student projects
The Centre recently had a visit from Dr Warren Stannard of the newly established Gippsland Tech School to discuss the creation of student projects. Warren and Vince discussed ways CO2 capture technology can be introduced to students as a project activity.

Visiting RMIT PhD students
Tom McGrath and Phoebe Lewis are visiting RMIT PhD students working under the supervision of Dr Bradley Clarke.
They are investigating the occurrence and fate of persistent organic pollutants in the environment. Their research is analysis intensive and requires access to specialised equipment such as GC-MS/MS. They have been using our instrument here in the CTRG's CCS laboratory to further their own skills development.
The 2nd Australia-Japan Symposium on carbon resource utilisation
Associate Professor Vince Verheyen and PhD Candidate Bharti Garg recently attended the 2nd Australia-Japan Symposium on carbon resource utilisation where Bharti was selected to give an oral presentation, her topic was: Combined Capture System Regeneration. Pictured here also is Bharti's co supervisor Dr Ashleigh Cousins CSIRO.
This symposium offered an opportunity for industry representatives, researchers and academia to come together to exchange technical knowledge, and to discuss opportunities and challenges related to the sustainable utilisation of diverse carbon resources. It also recognises the potential for Australia and Japan's R&D communities to work closely together in solving these challenges.
Coffee grounds as a source of biodiesel
Scott Douglas from Barefoot Pathways recently visited the lab to explore options for adding value to coffee grounds by evaluating their potential as a source of biodiesel.
Over the last 8 months he and his network collected approximately 20kg of coffee grounds per week from 50 cafes, restaurants and bars between Bairnsdale and Traralgon. They turn the coffee grounds into compost, fertiliser and body scrub but collect way more than they can use.
As a result discussion took place around the options for biodiesel production and the option of turning local biomass into value added products.
Advanced Manufacturing Growth Centre visit
Recently the representatives from the Centre visited OMNIA along with the Director of the Advanced Manufacturing Growth Centre (AMGC) Michael Sharpe and the Victorian Director, Michael Grogan. They undertook some site visits to meet manufacturers and gain a greater understanding of the needs and OMNIA was included.
Michael Grogan and Michael Sharpe are both working on a national approach to lift manufacturing across the nation. They provide expert advice to funding bodies in regards to advanced manufacturing project applications. Both directors were in Gippsland to talk with the Centre in the lead up to the development of the Industrial Transformation Research Hub which is connected with the Regional Carbon Innovation and Demo Centre.
Michael Grogan is a director of AMGC. He is the former CEO of Sutton Tools, an engineering manufacturer producing and exporting a full range of cutting tools from three Australian facilities and one New Zealand facility. Mr Grogan was appointed as Victorian director of the Advanced Manufacturing Growth Centre in May 2016. He is Chair of the Inner Northern Local Learning and Employment Network; Board Member of Manufacturing Skills Australia – Industry Skills Council; a Director of DMTC; Board Member of the Adult, Community and Further Education organisation and Member of the Victorian Manufacturing Skills and Training Taskforce.
Michael Sharpe has a strong track record in Australian trade and industry including resources, energy, infrastructure and defence. Moving directly from school into the family business Sharpe Bros, he built a highly successful career in a key Australian infrastructure industry. Sharpe Bros is a multi award winning leader in the roads industry, providing innovative services for road surfacing and maintenance operations throughout Australia. The company can trace its roots back over three generations and more than 60 years.
'Carbon to Products Seminar - pathway to a sustainable future'
Brown Coal Innovation Australia (BCIA) in conjunction with Federation University recently held a one-day seminar on Carbon to Products in Churchill to showcase the potential of the carbon resource in the Latrobe region. Associate Professor, Vince Verheyen was one of the presenters. Read more
Rubicon staff visit for some upskilling
Rubicon Outdoor Centre is an outdoor secondary school operated by the Department of Education of Training (DET), they visited the Lab this week to enhance their staffs knowledge staffs knowledge base about energy issues.
A/Prof Vince Verheyen provided a fantastic talk, tour and discussion. 'It really increased our understanding of the issues and complexities in this area' said Paul Banks.
Pictured left to right: Jon Merry, Mark Cook, Centauri Hirt, Maddie Ovens, Paul Banks, Matthew Bretherton (Rubicon Staff) and Vince Verheyen (FedUni).
Bioresource Processing Institute of Australia (BioPRIA)
Thilina is a chemical engineering PhD student at Monash University, Clayton. His thesis is on "Biorefinery Opportunities in a Thermomechanical Pulping Mill" for which he collaborates with Norske Skog Australia Paper Mills at Boyer, Tasmania.
Thilina is currently visiting the CCS Laboratory for resin acids analysis using GC – FID and terpene analysis using Headspace GC. His research interests are thermomechanical pulping, refining, nanocellulose production and application, phytochemicals, biorefineries, life cycle analysis, and techno-economic feasibility analysis.
Welcome Thilina!
International guests visit the lab
We recently had a visit from a group of International visiting scientists and engineers from the International CSS Knowledge Centre, Canada and the United Kingdom. They were escorted by the CO2CRC to discuss progress in carbon capture and storage and conduct a CTRG lab tour.
Our centre looks forward to collaborating with them in our research projects.
Laboratory staff update their skills
CTRG staff recently attended a training day by ATX updating their skills for utilisation of the Scanning Electron Microscopy (SEM). Training was specifically for the energy-dispersive X-ray spectroscopy (EDS) located at its Federation University Australia, Gippsland Campus. The SEM has the advantage over optical microscopy of greater resolutions and magnifications. EDX / EDS allows quick, semi-quantitative sample characterisation and can be used to identify surface contamination and impurities located by the SEM examination. EDX / EDS is also required to ascertain if the correct material has been used in the manufacture of a product, e.g. grade of alloy.
Carbon capture and storage laboratory opens at Gippsland Campus
CO2CRC Limited and Federation University Australia officially opened a new carbon capture and storage (CCS) laboratory at Federation University Australia's Gippsland Campus in September 2016.
The Hon Darren Chester, Minister for Infrastructure and Transport and Federal Member for Gippsland, opened this vital technology and analytical resource.
The FedUni laboratory is part of the Australian CCS Research Laboratories Network (CCSNet). It is funded through a $2.3 million agreement between the Australian Government's Education Infrastructure Fund and CO2CRC Limited.
The new laboratory will conduct important research into a range of CCS technologies, with the aim of reducing the cost of implementation so as to make price-competitive carbon reduction options.
"The new laboratory's location at Federation University Australia's Gippsland Campus is particularly fitting, given that nearly 90 per cent of Australia's brown coal reserves are located here," Dr Vincent Verheyen, Director of the Carbon Technology Research Centre at Federation University Australia, said.
"The laboratory will make a significant contribution to the understanding and implementation of solvent-based post-combustion capture at Latrobe Valley Brown Coal power generation facilities.
"While the initial focus of the facilities will be on local flue gas, the knowledge gained will be relevant to other power generators and broadened to pre-combustion coal to product applications around the country and internationally," Dr Verheyen said.
Tania Constable, CO2CRC's CEO, believes that carbon capture storage can and should play a vital role in supporting the renewal of the Gippsland region and Federation University Australia will play its part. Ms Constable said, "CCS is the only proven and reliable technology to remove large scale emissions from power generation and industrial processes. The Gippsland community's plan for action highlights the potential of CCS. This means thousands of jobs for the Gippsland region and will remove over 10 per cent of Australia's emissions."
One of the goals of the Commonwealth Education Infrastructure Funded Centre will be to focus on undertaking future energy training and research towards environmentally neutral and cost effective carbon based technologies.
The facility will provide a community focal point for science on brown coal and related energy knowledge topics. It will provide energy education services to community groups and students from primary school to post-graduate level.