Research facilities
GHERG is home to a wide range of laboratory and field equipment, computing hardware and software. State-of-the-art testing equipment is complemented by standard instrumentation to provide a fully outfitted geotechnical and geomechanical research and testing facility.
Laboratory
Our state-of-the-art geotechnical and geomechanical laboratory testing facilities allows us to undertake a wide range of conventional and advanced testing of geomaterials under controlled conditions.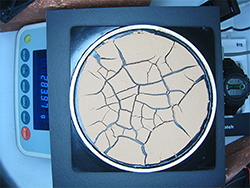 Our laboratory testing equipment includes:
Fully automated dynamic and static triaxial testing system (x2)
Large scale constant stiffness direct shear system
Fully automated direct shear test apparatus (x3)
Ring shear test apparatus
Fully automated 1D consolidation (oedometer) machine (x2)
Constant and falling head hydraulic conductivity (permeability) apparatus
Flexible wall (triaxial) hydraulic conductivity apparatus (x16)
Vane shear device
Atterberg limits apparatus (liquid and plastic limits, shrinkage)
Automatic compactors (standard, modified and CBR compaction)
Particle density and water absorption testing apparatus
Electromechanical sieve shaker and sets of standard sieves
Hydrometer
Slake durability apparatus
Pressure extractor
Tensiometer (pF-meter) (x3)
Download full list of our lab and field equipment (pdf, 57kb).
Our field equipment
Multichannel analysis of surface waves (MASW)
Cross hole probe
Hood infiltrometer
Permeability packer
Borehole camera
Multiscale seepage gauge
Water level loggers
Water temperature loggers
Drill cutters
Sample extruder
Download full list of our lab and field equipment (pdf, 57kb).
Our computer software
Abaqus FEM
Plaxis 2D/3D
Rocscience Advanced Bundle, including Slide2/3, RS2/3
Hydrus
MathWorks MATLAB
GIS packages such as ESRI ArcGIS, QGIS
Drafting packages such as AutoCAD and SolidWorks
Graphing tools such Adobe packages, Inkscape, GIMP
Make a booking
If you are interested in booking some of our equipment, or using our research facilities, Contact us.