VFR Travel Research book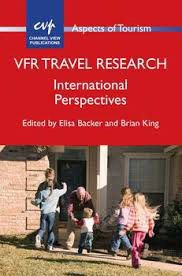 The VFR Travel Research Network is excited to announce a publication on VFR travel. This is the first book on this major form of tourism and was published June 2015 by one of the leading publishers of tourism books, Channel View. This book will be of value to industry and academe.
Summary
This is the first book to explore research on visiting friends and relatives (VFR). In many countries VFR is the largest single travel-related market and for some regional economies accounts for over half of all tourism flows. In assembling an international collection of quality VFR-related research the editors present the profiles, characteristics, opportunities and behaviours of VFR travel for the benefit of researchers, industry practitioners and educators. This holistic and international approach to understanding VFR travel provides a state of the art understanding of the context, dynamics and implications of VFR travel and will be an essential resource for postgraduate students, researchers and also practitioners.
Reviews
"Finally, a much-needed book that explores the vitally important, but under-appreciated area of VFR travel has been published. The book adopts a global perspective combining chapters that ground VFR travel well within existing tourism studies with case studies from almost every continent and deeper pieces conceptualizing. A book on this topic is long overdue and this book does not disappoint."
Bob McKercher, Hong Kong Polytechnic University
"This book seeks to examine the social and economic importance of the VFR (Visiting Friends and Relatives) market, and it does so successfully. Global examples are provided, and nuanced differences made – such as even questioning why the 'F' and the 'R' are grouped together in the all too familiar acronym 'VFR' when such distinct differences exist between families and friends. This book is a welcome addition to the tourism literature for the contribution it makes on what has thus far been a relatively under-researched area."
Chris Ryan, University of Waikato, New Zealand
News release
Read the news release about the VFR Travel Research book, issued by Channel View Publications (pdf, 344kb).