Media releases
New agreement to boost university participation in Melbourne's south-east
Posted: Tuesday 29 October 2019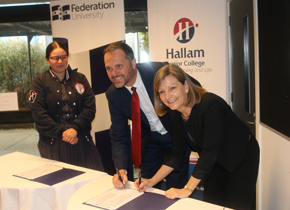 A new Federation University Australia partnership and pilot program in Melbourne's south-eastern suburbs aims to increase the rate of secondary school students going on to study at university.
The first agreement of its kind in Melbourne's growing south-east, Federation University and Hallam Senior College today signed a Memorandum of Understanding (MOU) that will give Year 10, 11 and 12 students access to mentoring, study support and university facilities at Federation's Berwick campus.
Currently only around 16 per cent of the school's Year 12 students go on to study at university.
Under the MOU, the secondary school students will partner with Federation University students to learn study skills and understand university learning.
A pilot program next year will provide additional support to Year 11 and 12 students with a focus on providing students a pathway to tertiary education. This will include a VCE study extension program, which allows Year 12 students to study a first year university subject as part of their VCE.
The partnership will also include professional development for teachers and research that supports innovation in education practice.
Federation University has the highest proportion of students of any university in Australia who are the first in their family to attend university and is ranked the number university in Victoria for teaching quality and student support, according to the latest Good Universities Guide results.
The MOU is part of the university's commitment to providing more students with access to tertiary education and the opportunities in life that a university degree can provide.
Quotes attributable to Federation University Vice-Chancellor and President, Professor Helen Bartlett
"There is a well-known saying that you can't be what you can't see and many of these secondary school students will have never thought university was an option for them."
"By exposing secondary students to the university environment and helping them learn study skills to succeed in VCE and at university, we can change that mindset and help open up more opportunities in their lives through further study."
"We have the highest proportion of students of any university in Australia who are the first in their family to go to university, which is something we are incredibly proud of. We know the power of education to transform lives and this partnership with Hallam Senior College is part of our commitment to that."