Welcome from the Vice-Chancellor and President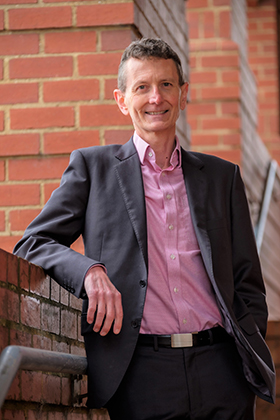 Welcome to Federation University Australia. As Victoria's premier regional university, we have been educating Australia's future leaders, innovators and thinkers for 150 years.
We have been here for our communities through wars, disasters and times of strong economic growth. We provide the learning, innovation and research they need to survive and succeed.
Today is no different. We are resilient and ready to shape the future. Join us on the journey!
You will be part of a supportive, inclusive and thriving community of 18,500 students and 118,000 alumni, from all backgrounds and cultures, ready to thrive in a post-COVID world.
Our purpose is to transform lives and enhance communities. A qualification from Federation University or Federation TAFE does just that.
We support our students to succeed and prepare them for the future. We are rated the number one university in Victoria for the way we support our students, develop their skills. When they graduate, we are number one in Victoria for our graduates finding full-time employment. We are also embedding hands-on workplace learning into all of our programs, so our students are ready for the real world of work.
We work with you to make learning something you can do. We have launched Federation Online, so whoever you are and wherever you are on your lifelong learning journey, you have the flexibility to study when and where it works for you.
We ensure equal access to education, so everyone in our community can pursue their dreams. We are number one in all of Australia for first generation students and number one in Victoria for social equity. We are also recognised internationally for our commitment to the United Nations Sustainable Development Goals. We are ranked in the top 100 worldwide for Reduced Inequalities, Sustainable Cities and Communities and Gender Equity. Federation is ranked in the top 20% of universities globally in Quality Education (SDG4), and in the top 25% of universities globally in Good Health and Wellbeing (SDG3), Affordable and Clean Energy (SDG7), Peace and Justice (SDG16) and Partnership for the Goals (SDG17)
Federation drives regional economic growth and builds our communities. Our graduates thrive, because Federation is deeply embedded with industries and employers. We have the largest regional Technology Park of any university in Australia, giving our students access to invaluable workplace experience in global organisations.
Our internationally-connected research collaborations are focused on solving real-world problems and making a difference in people's lives. Our research is world class or above in all of our major disciplines. By tackling the complex challenges facing our regions through world-leading expertise, we can provide our students with curriculum that is genuinely transforming communities.
We invite you to become part of our history.
Professor Duncan Bentley