Media releases
New library name honours Indigenous culture
Posted: Tuesday 29 October 2019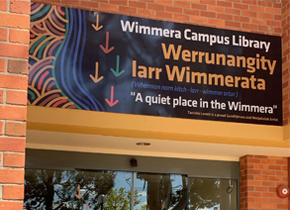 Federation University Australia's links to the Indigenous peoples of the Wimmera have been recognised with the renaming of Wimmera campus library, with a smoking ceremony and event at the Horsham campus to mark the occasion.
The full name of the library will now be 'Wimmera Library Werrunangity larr Wimmerata: A quiet place in the Wimmera'.
The new name derives from the local Wotjobaluk/Wergaia language and was chosen in consultation with the Barengi Gadjin Land Council Aboriginal Corporation.
Werrunangity larr Wimmerata has particular significance in the Horsham area, which offered a sheltered place where traditional owners lived, met, rested and reflected.
Local Aboriginal Artist and graduate of Federation TAFE, Tanisha Lovett, created an artwork to commemorate the renaming that depicts the five local communities in multi-coloured flowing waters, and emu footprints, which lead people to the library.
The library is the second Federation University building to be renamed with an Indigenous title. The first building, a student study space named the Gnarrwirring Karung Learning Place, was opened at the Mt Helen campus in 2018.
These initiatives are part of the University's Reconciliation Action Plan, which guides the University in its on-going commitment to reconciliation, both internally and within the communities within which it operates.
Quotes attributable to Vice-Chancellor and President, Professor Helen Bartlett
"The new name of our Wimmera library recognises Indigenous cultural heritage at Horsham and extends a message of welcome to local Indigenous communities."
"Celebrating Indigenous place names is a key initiative of our Reconciliation Action Plan, which recognises the special place of Aboriginal and Torres Strait Islander people as the First Australians and the power of education to create genuine opportunities to transform lives and enhance communities."