Media releases
Federation TAFE: a new name to connect our campuses
Posted: Wednesday 2 October 2019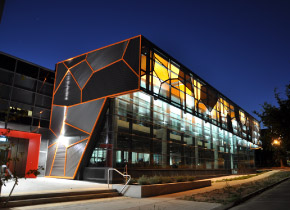 FedUni TAFE will now be known as Federation TAFE.
The new name has been announced as part of a refresh of the Federation University Australia logo currently being rolled out across the organisation.
This is an important change for the TAFE as it clearly identifies to the community that Federation TAFE is part of a dual-sector institution, Federation University Australia.
As a dual-sector provider, Federation provides educational pathways within all streams of the Australian Qualifications Framework – from TAFE certificates and diplomas, to university degrees and post-graduate qualifications.
Federation TAFE has been part of a dual-sector institution since 1998, providing high-quality vocational and educational training in the Ballarat and Wimmera regions as part of the former University of Ballarat and since 2014, as part of Federation University Australia.
Building signage and other branded materials will be progressively updated over the next 12 months with the new Federation TAFE name and new university logo.
Quotes attributable to Vice-Chancellor and President, Professor Helen Bartlett
"The new name for Federation TAFE and our new-look university logo reinforces that we are a dual-sector provider."
"Through Federation, students can access life-long learning with clear pathways from TAFE certificates and diplomas through to university degrees and post-graduate qualifications."