Media releases
Dark comedy comes to Arts Academy
Posted: Wednesday 2 October 2019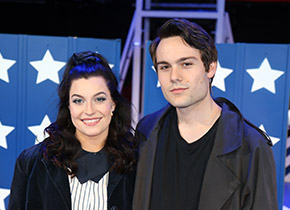 A black comedy about a brainy beautiful misfit and a group of ruthless high school students will be the next exciting production by Federation University's Arts Academy students.
Heathers: The Musical is the darkly enticing story of Veronica Sawyer, who hustles her way into the most powerful clique at Westerberg High: The Heathers.
But before she can get comfortable atop the high-school food chain, Veronica falls in love with a new student, J.D. When Heather Chandler kicks Veronica out of the group she figures she has no choice but to beg forgiveness – until J.D. hatches another plan.
Heathers: The Musical is based on the 1989 film starring Winona Ryder, Christian Slater and Shannen Doherty, which was directed by Michael Lehmann and written by Daniel Waters.
The Arts Academy production will feature Third Year Music Theatre students and be directed by Alister Smith with musical direction by Martine Wengrow.
Presented at the Helen Macpherson Smith Theatre, Camp St, Ballarat, Heathers: The Musical will be staged from Thursday, 3 October to Saturday, 12 October.
Quotes by Director of Arts Academy, Rick Chew
"Our students are eagerly looking forward to presenting this extremely comical work. The movie version of Heathers was very popular and the musical we are presenting continues in the same hilarious fashion."
"This will be the third and final production of the year for our third-year music theatre students. They have performed extremely well over the past few weeks and we wish them all the best as they embark on their careers next year."