Media releases
New degree to meet health workforce shortages in Gippsland
Posted: Friday 4 October 2019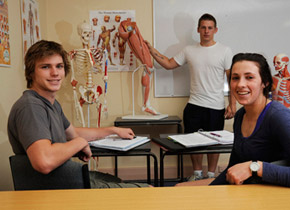 Federation University Australia today launched a new degree in occupational therapy that will be delivered at its Gippsland campus to help tackle the region's shortage of allied health professionals.
Occupational therapists help children and adults of all ages whose health or disability makes it hard for them to do everyday tasks. The four-year bachelor degree will commence in 2020 in direct response to the increasing demand for allied health professionals in the Gippsland region.
The Victorian Government's 2018 Occupational Therapy Workforce Report shows Gippsland has the second lowest proportion of occupational therapists in the state.
The course will place a special focus on occupational therapy in rural and remote settings and will prepare students for work in a variety of practice environments.
As part of the course, students will undertake more than 1,000 hours of work placement in local hospitals and clinics, aged care facilities, vocational rehabilitation centres and independent living and respite centres.
Students enrolling in the new Occupational Therapy degree in 2020 will also be able to access an accommodation scholarship to cover on-campus accommodation fees at Gippsland for 2020.
A new Occupational Health Advisory Board comprised of leading health professionals from across the region met for the first time today at the university's Gippsland campus, with the sector welcoming Federation University's move to help address local health workforce shortages.
Applications are now open via the Victorian Tertiary Admissions Centre (VTAC) for all Year 12 applicants and non-Year 12 and mature age students can apply directly to Federation University. For more information, visit www.federation.edu.au/ot
Quotes attributable to Vice-Chancellor and President, Professor Helen Bartlett
"The majority of our graduates go on to live and work locally, so we are confident that offering this new Occupational Therapy degree will help tackle the shortage of allied health professionals across Gippsland and the Latrobe Valley."
Quotes attributable to Latrobe City Council Mayor, Cr Graeme Middlemiss
"Latrobe City welcomes any expansion in the range of courses offered at Federation University Churchill campus. The new Bachelor of Occupational Therapy course will strengthen our professional workforce and help tackle the regions shortage of allied health professionals."
Quotes attributable to Latrobe Regional Hospital Acting CEO, Don McRae
"Occupational therapists play an incredibly important role in helping people to maintain a level of independence that contributes to their quality of life. Latrobe Regional Hospital is the largest employer of allied health professionals in Gippsland and we are delighted this new degree will draw on the expertise of our staff and our great facilities to put students on the pathway to a rewarding career."