Media releases
Award recognises importance of Indigenous Gardens
Posted: Tuesday 1 October 2019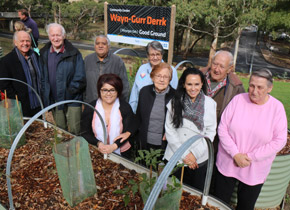 Federation University Australia's commitment to reconciliation and Aboriginal and Torres Strait Islander students and staff has been recognised at the Tertiary Education Management (ATEM) Excellence in Community Engagement Awards.
The university received a high commendation at the event in Adelaide last night for the Wayn-Gurr Derrk Indigenous Community Gardens on the Mt Helen campus.
The gardens were launched in March 2018 to provide all students and staff, as well as the wider University community, with access to local indigenous foods and education on how to prepare them.
'Wayn-Gurr Derrk' is Wadawurrung language for 'Good Ground'.
The Indigenous Community Gardens also make an important contribution towards the Federation University Australia Reconciliation Action Plan. They support and build relationships with Aboriginal and Torres Strait Islander students and promote Aboriginal cultures to students, staff and the local community.
Plants in the gardens include Black Plum, Small Leaved Tamarind, Lemon Myrtle, and Red Back Ginger, all of them providing a selection of herbs and fruits which can serve a variety of uses.
Federation University hopes to create similar gardens at the Berwick and Gippsland campuses.
Groups wanting to arrange a visit to the gardens can contact the Campus Life office for further information on 03 5327 9480.
Quotes attributable to Manager of Aboriginal Education Centre, Jasmine Graham
"The Wayn-Gurr Derrk Indigenous Community Gardens are a prized asset at Federation University and they provide much comfort and inspiration to our staff and students. The Campus Life team is to be commended for its work in creating these gardens."
"The local Elders are great supporters of the gardens and frequently visit them. We also have strong interest from local organisations such as the scouts, as well as the Federation University Children's Centre."
"Aboriginal and Torres Strait cultures are for all Australians to celebrate and take pride in. These gardens are one example of sharing knowledge and working together to increase respect and pride on our journey of reconciliation."