Media releases
Federation graduates are highest paid in Victoria
Posted: Tuesday 1 October 2019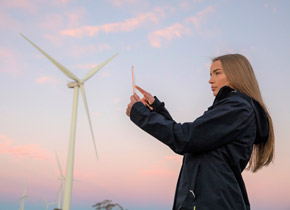 Federation University graduates are more likely to get a full-time job and earn a higher starting salary than graduates from any other Victorian university, according to the new Good Universities Guide 2020 ratings.
Released today, the ratings reflect Federation University's strength in equipping students with the skills employers want and ensuring they receive the highest quality teaching and support throughout their education.
Federation University is ranked the number one university in Australia for First Generation Student Enrolments and the number one university in Victoria in seven categories, including:
Number one in Victoria for Starting Salary for graduates ($62,600 average)
Number one in Victoria for Graduate Full-time Employment
Number one in Victoria for Social Equity
Number one in Victoria for Student Teacher Ratio
Number one in Victoria for Skills Development
Number one in Victoria for Student Support
Number one in Victoria for Teaching Quality
In addition to these number one rankings, Federation University achieved the highest five-star rating in nine out of 14 areas – up from three five-star ratings last year. This includes overall student experience, skills development, learning resources, student support, teaching quality, graduate starting salary, social equity, student teacher ratio and first generation student enrolments.
These outstanding results reflect the transformation underway at Federation University. Over the past two years the university has moved into a budget surplus, restructured its Schools and appointed new leadership positions to drive change, including five new Deans and a Deputy Vice-Chancellor of Research and Innovation.
These changes are already having an impact, with today's Good Universities Guide ratings building on the Excellence in Research Australia (ERA) ratings released in March, which saw the quality of research at Federation University rated as well above world standard for the first time in seven research areas.
Quotes attributable to Vice-Chancellor and President, Professor Helen Bartlett
"These outstanding results demonstrate the high quality teaching and support we give our students to ensure they graduate with the skills employers want."
"Many of our students are the first in their family to go to university and have overcome incredible challenges to do so. We know that with the right support they can succeed and transform their lives – and that is reflected in these results."