Media releases
Universities partner to train aspiring local doctors in Gippsland
Posted: Tuesday 12 October 2021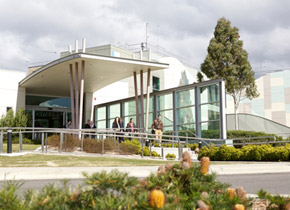 Students at Federation University Australia's Gippsland campus will have a direct pathway to study medicine locally at Monash University's School of Rural Health, following the launch of a new degree.
The universities are working together to improve health outcomes for Gippslanders and strengthen the future of the local health workforce by developing the three-year Federation University Bachelor of Biomedical Science (Gippsland Partnership Program).
The degree will be offered from semester one 2022 and enable Gippsland students, subject to entry requirements, to be eligible to apply for graduate entry into Monash University's Bachelor of Medical Science and Doctor of Medicine program at its School of Rural Health, which is co-located with Federation University at Churchill.
This means students will be able to live and work closer to home throughout their journey to a medical career – from their undergraduate degree, to their medical training, placement and ultimately clinical practice in the local health sector.
Currently, a specified Monash University degree is required to be eligible for the graduate entry medical program, but this partnership will give Federation University students a direct pipeline to study medicine without moving to Melbourne.
Students in the Bachelor of Biomedical Science (Gippsland Partnership Program) will be able to attend the majority of their classes at Federation University's Gippsland campus at Churchill. One unit of the Monash Biomedical Science course is completed in each semester, in a mix of online and in-person classes at the Clayton campus. Five places will be offered in 2022.
The students will receive ongoing support including Monash's near-peer mentoring program where they are linked with local medical students. Students in the partnership program are also eligible for Federation's High Achievers Scholarship, providing them with a laptop, course materials, lifestyle products and professional development.
Gippsland Partnership Program students who enter Monash's graduate-entry medical program will have the opportunity to complete the majority of their training in regional Victoria, across Monash Rural Health's teaching sites including Traralgon, Warragul, Bairnsdale, Sale and Leongatha.
To register your interest in the Bachelor of Biomedical Science (Gippsland Partnership Program), visit bit.ly/regbiomed
Quotes attributable to Federation University Gippsland Head of Campus, Ms Leigh Kennedy
"We know that students who study in regional areas stay in regional areas. It's true for the majority of our Federation graduates who go on to live and work in regional communities."
"Enabling students to study closer to home right from their undergraduate degree in Biomedical Science, to medical school and placement in local hospitals and health services will support them to maintain connections to their local community."
"By partnering with Monash University we can help Gippsland students train locally so they can go on to work in our local hospitals and health services, instead of going to Melbourne."
Quotes attributable to Monash University School of Rural Health Head, Professor Shane Bullock
"This partnership between Federation and Monash Universities has been developed so that local Gippsland students can complete their first degree as a pathway into our medical degree without having to leave the region."
"The evidence shows that regional students wanting to study medicine remain working and contributing to their local communities once they have graduated. This program will facilitate Gippsland having more excellent doctors into the future."
Quotes attributable to Federal Member for Gippsland, Darren Chester
"It is fantastic to see more courses becoming available through higher education to Gippslanders."
"Moving away to study is not an option for everyone and young Gippslanders shouldn't miss out just because they are based regionally."
"Providing more opportunities for medical studies locally keeps young people in our region throughout their studies and into their careers."
"The best way to fix the rural doctor shortage is to train more country students, and removing the barrier of travelling to Melbourne for study will help Gippslanders achieve their dreams."
Quotes attributable to Latrobe Regional Hospital Executive Director Education, Research and Governance, Anita Raymond
"From a healthcare perspective this program will help us build well-rounded medical graduates who live and study locally and understand the needs of our community and workforce."
"The Gippsland Partnership Program demonstrates the strength of regional university and industry partnerships and how through collaboration we can offer better opportunities in medicine to prospective students in Gippsland."
"LRH is in full support of this program and is hopeful this approach will help to build and contribute to a much needed medical workforce for our region."