Media releases
Art and Design students showcase their professional development
Posted: Friday 13 April 2018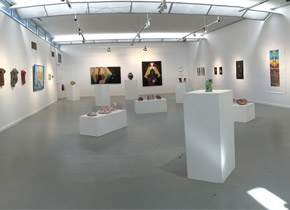 A new art exhibition, Eighteen and Over, by third-year students, academics and support staff at Federation University Australia's Gippsland Centre for Art and Design (GCAD).
This project show is driven by students and demonstrates their creativity, endeavour and teamwork. Students curated, prepared content, designed collateral and installed the works in GCAD's Switchback Gallery.
The exhibition is a synthesis of art practice with the influences and partnerships that are taking place at GCAD. The whimsical title Eighteen and Over points to the collaboration with staff and students of varying backgrounds and experiences.
"This exhibition showcases the talent on offer at FedUni, whilst also fostering further growth and development of our cohort," Lecturer Chloe Benson said.
"Eighteen and Over offers students valuable experience in professional practice that will assist them in establishing their objectives and projects for their final year of study."
The work is composed of ceramics, photography, found objects and works on canvas and paper. The pieces reflect a wide range of conceptual inquiry including identity, humour, time and the importance of materials and their qualities in art-making.
Members of the public are invited to an official opening for Eighteen and Over on Thursday 19 April at 5pm, at the Switchback Gallery, Federation University Australia, Northways Road, Churchill.
The exhibition continues until 31 May.