Media releases
Student Chris Hams receives New Colombo Plan scholarship
Posted: Thursday 30 November 2017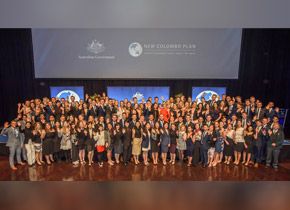 Federation University Australia student Chris Hams has been awarded a prestigious New Colombo Plan Scholarship funded by the Australian Government.
The Scholarship includes up to $20,000 in tuition fees, as well as funding to undertake language training, travel allowance, establishment allowance, a monthly stipend and health and travel insurance.
"The University is delighted that Chris has been awarded such a prestigious scholarship," Dr Jessie Harman, the University's Pro Vice-Chancellor (International and Partnerships), said.
"We wish him all the best for his future studies and travels abroad. He will be a fine ambassador for the University."
Students are nominated by their university for a scholarship. They can undertake an internship or mentorship as part of their program.
Students are judged on four criteria:
Academic excellence at the tertiary level
Leadership in the community
Adaptability and resilience
Ability to contribute to the NCP goals
Chris Hams is a Bachelor of Community and Human Services/Bachelor of Education student.
He has been accepted as a visiting student at the University of Hong Kong and is planning to study there in first semester next year.
Chris attended the New Colombo Plan 2018 Scholarships Awards at Parliament House this week.
The New Colombo Plan supports Australian undergraduates to live, work and study in 40 locations across the Indo-Pacific region, including for the first time New Caledonia and French Polynesia.