Media releases
Oldest Aboriginal Elder to graduate from FedUni Gippsland
Posted: Wednesday 24 May 2017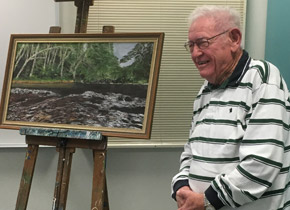 One of the oldest indigenous Australian Elders will graduate with a Masters of Visual Arts from Federation University Australia's Gippsland Campus this week.
At the age of 86, Uncle Edward (affectionately known as Dennis), is the oldest indigenous Australian to graduate from FedUni's Gippsland Campus and is proof that you are never too old to learn.
But it is not his first graduation. Uncle Dennis earned a place in the local history books when he graduated with a Bachelor of Arts (Aboriginal studies) in 2014 – a degree he completed at the age of 82 at the Gippsland Campus.
The youngest of sixteen children, Uncle Dennis is the first in his family to have completed a Masters degree.
What began as a hobby soon turned into a quest for knowledge. Uncle Dennis says it was his love of painting and his mother's admiration for Australian landscapes that sparked his interest in studying Aboriginal Art.
"My mother had no education but was very practical. She made our clothes and always talked about the land, how beautiful it is and how we need to respect it. Her stories captured my imagination," Uncle Dennis said.
"I always liked painting and looking at landscapes. I started painting using the traditional Aboriginal style of creating dots and lines before progressing to painting landscapes and aspects of our culture."
His works are contemporary yet stay true to his indigenous roots. Uncle Dennis paints using the ochre technique. The rich, earth-like colours are created by grinding stones to a powder before being mixed with fluid to bind it together.
"I tried oil paintings and water colours but the ochre technique I fell in love with. It's a beautiful medium," he said.
After his graduation, Uncle Dennis plans to spend time at the Gathering Place in Morwell where he will share his knowledge and passion of Aboriginal art and culture in the hope he will inspire the local indigenous population to learn more.
"As an Aboriginal Elder it is important to pass on what you have learnt to others and be prepared to help. I was encouraged to get an education thinking I could never get one. I hope what I have done will help others do the same," Uncle Dennis said.
Uncle Dennis will be joined with his four children and over 100 students who have completed their degrees to celebrate at a graduation ceremony at Federation University Australia's Gippsland Campus on Thursday, 25 May.
Federation University Australia's Vice-Chancellor, Professor Helen Bartlett, said it was a remarkable achievement and congratulated all graduands.
"The path through higher education is not easy at times. It is important we recognise the hard work and commitment shown by students from across the life course to successfully complete their programs," Professor Bartlett said.