Media releases
Next generation of promising artists stage exhibition in Ballarat and online
Posted: Wednesday 24 November 2021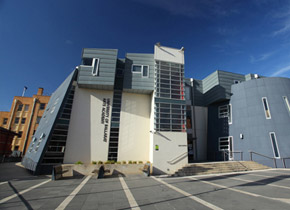 Ballarat residents with an eye for art will have the chance to see and purchase works from our next generation of budding artists when Federation University Australia's End of Year Exhibition (EYE) is held at the historic Ballarat Mining Exchange this week.
The exhibition by 32 graduating students from Federation's Arts Academy will feature paintings, drawings, ceramics, digital art, and graphic design. It is being held from 27 November to 5 December.
To accompany the physical exhibition, an online gallery featuring works from EYE has been created, giving students an opportunity to reach an even broader audience. The online gallery can be viewed at https://artspaces.kunstmatrix.com/en/exhibition/7917181/2021-virtual-eye-end-of-year-exhibition
EYE has been held for more than 10 years and is an opportunity for students to curate works under the guidance of their lecturers and present it in a professional setting.
Graduating students from Federation's Diploma of Graphic Design, Advanced Diploma of Graphic Design, Bachelor of Visual Arts, Bachelor of Communication Design, Graduate Diploma of Ceramics, Bachelor of Arts (Creative Arts) (Honours) are taking part in the exhibition.
Further Information and tickets available: https://federation.edu.au/arts-academy/whats-on
Quotes attributable to Federation University Australia Associate Professor Richard Chew, Director, Arts Academy
"EYE celebrates the work of our graduating students across five programs in a range of media and is a highlight of our annual public events program at the Arts Academy."
"In 2021, we have continued to adapt to the challenges of living, working, and learning with extended lockdowns and changing restrictions."
"Many of the students represented in this exhibition have spent the greater part of two years studying online and their achievement is testimony to their creativity, resilience and courage."
Quotes attributable to final year Bachelor of Visual Arts student Concetta McFall
"I have been studying at the Arts Academy part-time for six years, and during this time I have really valued the advice, assistance, and encouragement that I have received from staff and the other students."
"I am so excited to finally see my artwork hanging in an exhibition. It is the best feeling."
Quotes attributable to Bachelor of Communication Design student Zainab Zaidi
"Throughout my course at the Federation University Arts Academy I've managed to learn skills that will not only help me as a designer in the industry, but also as an individual."
"Our instructors have gone above and beyond to make this journey a successful and smooth one, something that we can take on and remember for the rest of our lives."