Media releases
Fed Uni and Gippsland community support students in need
Posted: Thursday 23 July 2020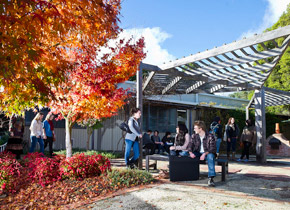 Federation University Australia has joined forces with local churches, welfare agencies and neighbourhood and multicultural groups to support students in need with the Community Pantry initiative.
A Community Pantry has been established at Federation University's Gippsland Campus in Churchill and Mid Valley Shopping Centre in Morwell to provide food and toiletries to students experiencing difficulty due to the coronavirus pandemic.
Students have been particularly hard hit by COVID-19 due to the loss of casual and part-time jobs. International students face the additional challenge of living far from their home support networks.
The Community Pantry will provide practical assistance with groceries, along with access to Federation University support services.
The Gippsland initiatives are supported by Foodbank Victoria, Enjoy Church, Mid Valley Shopping Centre, Sikh community members (Siri Guru Nanak Darbar, Officer) and Churchill Neighbourhood House, in consultation with a range of community partners.
The Community Pantry at Mid Valley Shopping Centre is open for domestic and international students every Thursday and the Churchill Campus pantry is open on Tuesdays. Information on opening times is available at the Community Pantry website.
Donations of groceries, blankets, beans, gloves and toiletries from members of the Gippsland community are appreciated.
A Community Pantry also operates at Federation University's campuses in Ballarat and Berwick.
Quotes attributable to Federation University Federation Head, Gippsland Campus, Leigh Kennedy
"The Community Pantry is a very practical way of supporting students impacted by the COVID-19 pandemic. For all the hardship of recent months, it is heartening to see the generosity and compassion the Gippsland community has shown in helping us support domestic and international students through the Community Pantry initiative."
Quotes attributable to Foodbank Victoria CEO Dave McNamara
"At Foodbank our mission is simple. We're here to feed those in need. So for international students and local students alike, who don't meet some of the more exclusionary and stringent criteria for financial support in this crisis, we simply want to make sure they will always have something to eat. And we love helping anyone who feels the same way."
Quote attributable to Mid Valley Shopping Centre Manager Sjaala Harbridge
"Mid Valley Shopping Centre is proud to support Federation University's food pantry initiative providing local students with much needed food supplies during this very challenging period."