Media releases
Arts students shine in End of Year Exhibition
Posted: Friday 15 November 2019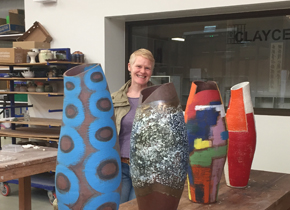 Graphic design, ceramics, creative arts and print making will be just some of the art forms on display at Federation University Australia's spectacular End of Year Exhibition at Ballarat's Mining Exchange.
More than 40 current Visual Arts students from the Arts Academy will have their work on show for the next 10 days and many will be hoping they will become the next Brett Whiteley or Pippin Drysdale.
The End of Year Exhibition has been held for more than 10 years and provides valuable impetus to the careers of the Arts Academy's students.
Several awards will be presented to graduating students during the exhibition. These include the Cheryl Twomey Memorial Award, which is awarded to a ceramics student who has displayed an exceptional commitment to their studies.
The National Association of the Visual Arts Award will be presented to the graduating student who achieves the highest marks in their Professional Practice Unit.
The exhibition will officially open on 6:00pm, Friday, 15 November and be open daily from 10am – 3pm from Saturday 16 to Sunday 24 November.
Quotes attributable to Director of the Arts Academy, Associate Professor Rick Chew
"Our End of Year Exhibitions are a great opportunity for our Visual Arts students to unveil their finest works throughout the year. The range of work presented this year has been outstanding."
"We are very proud to be hosting this exhibition in the historic grounds of the Ballarat Mining Exchange. The students from this exhibition are a fascinating mixture of different ages and backgrounds and we will follow their future success eagerly."
Quotes attributable to ceramics student Marian Fox
"The great thing about the End of Year Exhibition is it allows students to put their work out there and gain confidence. I work in ceramics and this year I have created a series of large vessels with various surface treatments and oxides."
"This exhibition is a significant moment for me as I am finally completing my Visual Arts degree after 11 years. I have had to balance a lot of things and that's why it has taken so long – I am not leaving though - I am coming back to do a post-graduate degree."