Media releases
New scholarships in turbine training announced
Posted: Friday 8 November 2019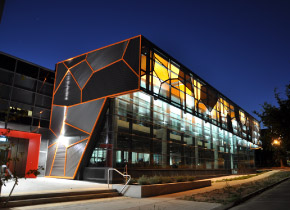 A new scholarship at Federation TAFE will allow electricians, auto mechanics and mechanical fitters to gain the skills and qualifications needed to work as wind turbine technicians.
Three scholarships valued at $3,500 each will be offered annually for the next ten years to help people with transferable skills gain the Global Wind Organisation Basic Technical Training (GWO – BTT) qualification, which will allow them to work in the wind power generation industry.
The GWO – BTT training course provides an entry level training qualification recognised by major wind turbine manufacturers as a prerequisite for entering into a role as a wind turbine technician.
The scholarship is being funded by Tilt Renewables, which is developing the $560 million Dundonnell Wind Farm project 23 kilometres north east of Mortlake. The project will feature 80 wind turbines with a combined energy generation capacity of 336MW.
The project was successful as part of the Victorian Renewable Energy Auction Scheme (VREAS), and has been awarded a Support Agreement by the Victorian Government.
Federation TAFE will conduct the next GWO – BTT course from 13 to 17 January.
Information about applying for a scholarship is available on the Federation University Australia website at: http://ow.ly/8QiJ30pQIXB
Quotes attributable to Federation TAFE Executive Director, Barry Wright
"With so many large-scale wind farm developments getting underway across western Victoria, there is a huge opportunity for locals with transferable skills to train as wind turbine technicians and these scholarships funded by Tilt Renewable will cover the cost."
"Federation TAFE is one of the only two places in Australia that offers the Global Wind Organisation training, which is mandatory to work as a wind turbine technician. It means our graduates will be able to work in the wind power generation industry anywhere in the world."
Quotes attributable to Tilt Renewables Executive General Manager Renewable Development, Clayton Delmarter
"We are proud to be supporting Federation TAFE through these scholarships and encourage post trade qualified technicians to apply."
"This support, totalling $105,000 over 10 years, forms an integral part of our commitment back to the renewable energy sector, which continues to grow and create jobs of the future for Victorians."